Experience the 'softer' side of quiet Ibiza
Ibiza has done well to build up its reputation as the 'clubber's paradise of Europe', but in spite of its justifiable status as being a top-spot for clubbers it would not be fair to paint Ibiza as being solely a metropolis for neon nightclubs and 24 hour bars, as Ibiza, contrary to a prevalent estimation, has a much 'softer' side. Quiet Ibiza is just as appealing.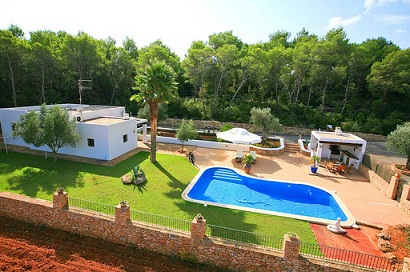 Like much of the Balearic Islands and Spain in general, quiet Ibiza moves at a slower pace of life, with a 'manana, manana' attitude oozing its way through its hedonistic façade.
From simple food being eaten in unpretentious bars, to yoga retreats attracting an older and sophisticated clientele, to boasting some of the most eye-opening views on the Balearics, Ibiza's quieter side is there to be discovered.
Natural Reserve de Ses Salines
Since 2001 the Natural Park of Ses Salines has been officially protected by an Act of Parliament of the Balearics and formally designated as an area of outstanding natural beauty.
The park comprises of 2,000 hectares of Mediterranean biodiversity at its most spectacular, which includes many rare and diverse species of land and marine creatures, breath-taking scenery and several sites of great historical and cultural value.
As the bird life inhabiting Ses Salines is something to be marvelled at, it is early in the morning before the strong Ibizan sun has had chance to heat up when you will witness Ses Salines at its most extraordinary.
Rock climbing on Buda
With more than 400 bolted routes across the island, Ibiza is a magnet for rock climbers. These routes range from grey limestone slabs, multi-pitch routes, overhangs with tufas and jugs and short single pitch routes, meaning climbers of all abilities can enjoy the many rock climbing assets this island has to offer.
One of the largest crags for rock climbing is known as Buda, which is located on the south west of the island. Buda provides climbers with a choice of sea cliff climbing routes, as well as stunning views of the surrounding scenery.
Revival Spa
Spas are big business on Ibiza and being a far cry from the loud, incessant thumps of the clubbing resorts, offer a place of solitude, refinement and total relaxation.
Revival Spa is one such place in 'quiet Ibiza', which as soon as you enter, a subtle, soft, calming atmosphere engulfs you as you embark on a therapeutic journey of saunas, steam rooms, massage, Jacuzzis and much, much more.
And if you are looking for a more quiet Ibiza, you should be interested in Vintage Travel's luxury villa in Ibiza, Atzi.