24 Sep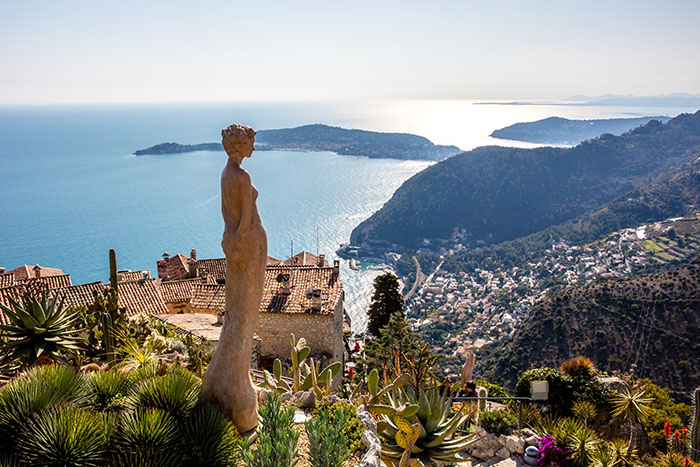 The hilltop village of Eze, precariously perched on the crest of a hillside between Monaco and Nice on the Cote d'Azur, is an absolute delight to visit. It stands at a mighty 427m above sea level, whilst being just a stone's throw from the Mediterranean. This medieval village is not for the fainthearted, as it can only be accessed on foot!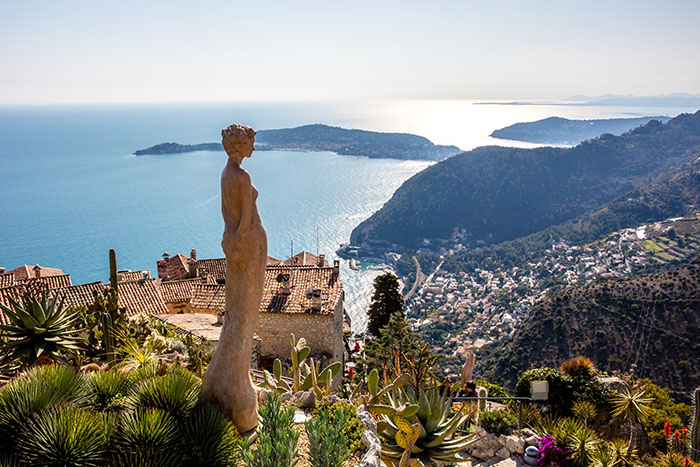 The whole of this thoroughly unique hilltop village is pedestrianised, encompassing a mesmerising maze of cobbled pavements, stone steps and boutiques and cafes carved from rocks. You enter Eze through a stone archway and a guardroom, which has been transformed into a delightful boutique, selling beautiful handmade ornaments.
Pretty stone archways are a dominant feature of this hill-perched town, as are shaded squares, charming stone houses, ancient fountains and buildings adorned with boldly-coloured climbing plants, including bougainvillea, jasmine and plumbago.
One of the focal, standout buildings in Eze is the residence of the Riquier family, where this aristocratic family from Nice lived, reigning Eze from the 13th to 16th century. In 1920, the residence was bought by American composer, Samuel Lathan Barlow, who meticulously restored it.
One popular pastime in Eze is visiting the many quirky and incredibly small arts and crafts boutiques that are hard to resist. Some of these tiny shops are nothing more than caves dug from the rock. The only open space in Eze is the courtyard of the Chappelle de la Sainte Croix, which overlooks the town's approach.
The incredibly beautiful, fully-pedestrianised medieval hilltop village is like a setting from a medieval fairy tale. Devoid of vehicles, noise and pollution, and enjoying some of the best views of the Mediterranean, the walk to reach Eze might be steep and exhausting, but it's definitely worth it.