11 Aug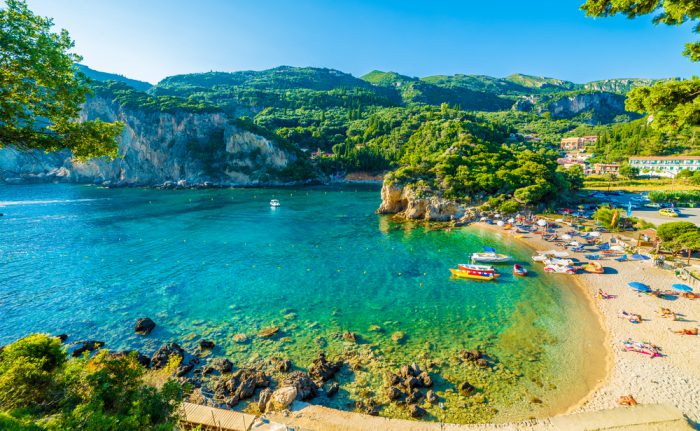 Not far from the Greek mainland and the coast of Albania, lies the beautiful island of Corfu. It is only 65 kilometres long and half that distance in width, at its widest point. But what Corfu does have is some 217 kilometres of coastline, which attracts visitors all year round. Much of the island is mountainous, the highest point being Mount Pantokrator, some 906 metres above sea level.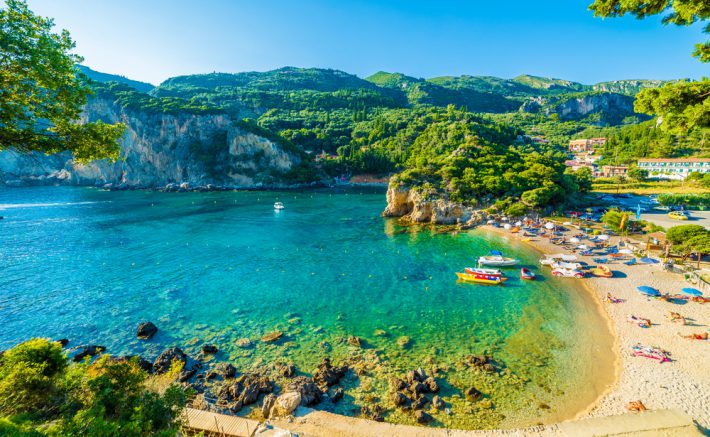 There are some bustling resorts such as Sidari and Kavos, but there are many less populated areas and some beautiful bays that feature spectacular vistas. Many tourists prefer to concentrate on the resorts with facilities, though you may want to experience what this traditional island has to offer further inland, and its more secluded coastal areas.
Corfu Town is the island's largest town, and with its imposing castles, is not to be missed. The second largest municipality is Lefkimmi, which seems positively serene. There are virtually no tourist shops, and the streets are generally quiet, unless they are having a fiesta. There are lemon trees and vines in the gardens, and colourful flowers in pretty containers. Chickens wander free in Lefkimmi and the local people take life at a leisurely pace.
Mount Pantokrator can be driven up by a road that winds its way through incredible curves that carve their way through the rock. At the zenith, the views are simply breath-taking, looking across the island, which is spread out in all its glory below you.
The Korission Lagoon is often overlooked by visitors, but is well worth seeking out. Dunes surround the lake, and the indigenous vegetation, water birds and a calm setting make it ideal for a peaceful stroll.
Paleokastritsa, on the northern coast, is a rocky wooded promontory that boasts a ruined castle, the Angelokastro. To reach the castle you drive along a narrow lane through wonderful picture-perfect villages, such as Lakones, Makrades and Krini, until you reach a tavern, and then take a short walk to the ruined fortification. Here you'll find more stunning views over the southern Adriatic.
Nearby there are also some peaceful coves and beaches, with a monastery perched above one of them. Inside the monastery there is a pretty courtyard and church.
Another popular vista can be found at the Kaiser's Throne, a viewing platform found near the village of Pelekas. It was named after Kaiser Wilhelm II, who really loved the island, and this place in particular.
If you are considering visiting Corfu, here are a couple of suggestions for high quality, self-catering accommodation.
Armonia
Armonia is a light and spacious two-bedroom property that sleeps four guests. This charming villa is traditionally Corfiot in style, décor and atmosphere. It is a wonderful spot to relax and take in the atmosphere, whilst convenient amenities are only 2km away.
Frini 
Frini boasts lovely views over the red and pink slated rooftops to the Ionian Sea, that lies glittering in the sunshine. This three-bedroom, three-bathroom villa sleeps six. Frini is within easy reach of amenities, and offers an ideal base from which to explore this beautiful island.