25 Jun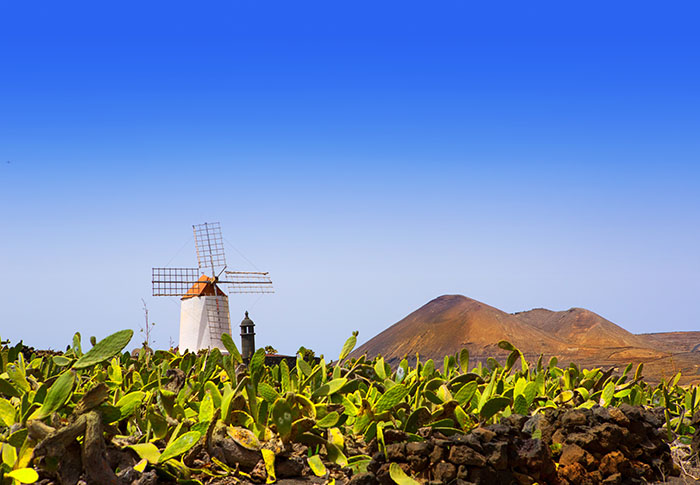 The beautiful island of Lanzarote is awash with interesting and picturesque villages and towns steeped in history, culture and tradition. One charming village in the north of Lanzarote is Guatiza, a small and tranquil settlement, most famed for its Cactus Garden.
The Jardin de Cactus is one of Lanzarote's leading tourist attractions. This stunning garden is home to more than 10,000 different cacti species and was designed under the guidance of the island's most famous architect, painter and sculptor, César Manrique.
This enthralling and utterly unique garden boasts one of the best collections of cacti in the world. The wonderful cacti displays are set against a stunning backdrop of a giant bowl laid out in steep terraces and hewn from an old quarry.
There is, however, much more to Guatiza than cacti alone! The village's attractive streets and squares are lined with fascinating architecture. Quaint old windmills are another pleasant feature of this traditional Canary village.
Once upon a time, Guatiza was two separate villages, connected by a bridge known as the 'Bridge of Fields'. The two villages merged as one when residents of Santa Margarita abandoned their homes due to frequent raids by Moor and Berber pirates. Today Guatiza has a population of around 800.
Just outside of the village lies a pretty sandstone mill and the remains of an old picon mine at the side of the Mount Guenia volcano. The mill comprises of distinctive red walls with holes cut out of them where bricks were once extracted.
To experience traditional and unhurried Lanzarote culture and be amongst friendly locals within an incredibly scenic setting, make the pretty village of Guatiza part of your holiday itinerary.