25 Aug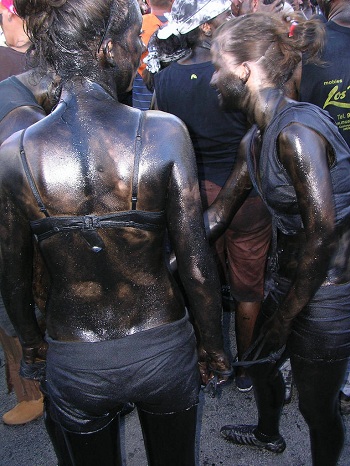 Andalucia is notorious for its bizarre and wacky festivals and none more so than the Feria de Cascamorras held in the historical market towns of Baza and Guadix, in the province of Granada. The event takes place on the 6th September each year.
One extraordinary image that stands out when you visit the town of Baza is the amount of black handprints arbitrarily embossed on many of the town's whitewashed walls. It is not until you attend the Feria de Baza in early September that you understood the true meaning behind this bizarre spectacle.  This particularly popular Spanish fiesta kicks off with the Feria de Cascamorras, when thousands of locals cover themselves in oil and throw paint at the "Cascamorras" as he attempts to steal the Virgin statue from Baza.
This 500 year dispute between the two nearby towns involves a nominated local from Guadix coming to Baza with the intention of taking away the Virgin from the church. Hundreds of revelers cover themselves from head to toe in the thick oil and then gleefully imprint their hands, feet and even bottoms on the brilliantly white walls of Baza, before hurling the Cascamorras into the air and throwing him between oil stained hands in an attempt to prevent him from departing with the statue.
These apparently angry gestures are put on solely for the purpose of keeping the tradition alive and the Feria de Cascamorras is fun for everyone involved. It is a fiesta which attracts more people every year, of all ages.
This particularly colourful and original event is then proceeded by the ten day long fair, which in short, has a little of everything. From the youths thumbing lifts back to Guadix the morning, still intoxicated from the early morning celebrations, to the myriad of elderly men and women swamping the temporary bars, the Feria de Baza really is a party for everyone.
Spain may be renowned for celebrating religious festivals in a creative and outrageous manner, but the fiesta de Cascamorras is an incarnation of originality and uniqueness. More here.