07 Jun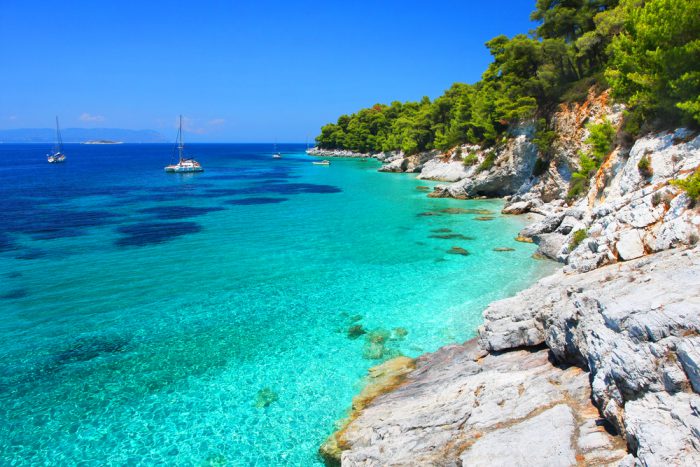 The wonderful beaches of Skopelos are renowned for crystal clear water and the surrounding green landscape that often stretches right down to the water's edge. There are numerous beaches to choose from on this beautiful Greek island, but here are five that come highly recommended…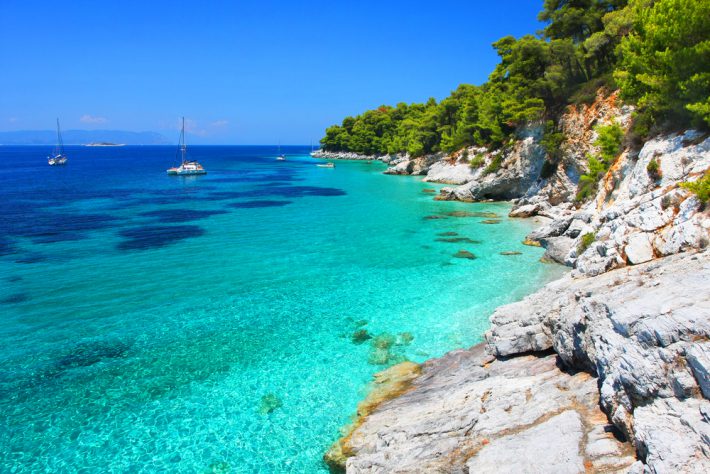 Panormos Beach
Panormos Beach is only 12 kilometres from the main town of Skopelos. It has a stunning bay and boasts two islets. This well-facilitated beach lies close to the interesting village of Panormos, where you can spend the evening wining and dining on authentic Greek food in one of the village's local taverns or restaurants.
Kastani Beach
Kastani is considered to be one of the best beaches on the island. Unlike some of the other pebble beaches Skopelos is home to, Kastani vaunts stunning white sand.  Located to the west of Skopelos Town, Kastani Beach sports a fragrant aroma coming from the pine trees that reach to the sea.  Kastani Beach was made famous when it was chosen for many of the scenes in the musical film "Mamma Mia".
Agnondas Beach
Agnondas Beach could be described as picture-perfect, situated amongst forests of pine trees. The beach is pristine clean with emerald clear water lapping around an interesting port, where yachts are moored and where boats take refuge when winds prevent them reaching other ports on the island.
Loutraki
A 45-minute drive to the North West of Skopelos Town through a mountainous region, will bring you to the beach of Glossa, also known as Loutraki. From this beautiful and tranquil pebbled beach, you'll be able to explore the nearby ancient ruins at Selinus.
Agios Ioannis Beach
Gifted with a majestic landscape and the same wonderful clear water, Agios Ioannis Beach is less crowded than many other beaches on Skopelos. Perched on the rocks above the beach is a small church offering a fantastic view of the coastline. This small monastery can be reached by climbing its 105 steps.
There are many more wonderful beaches to visit on verdant Skopelos, making the island a perfect destination for families seeking fun in the sun and couples yearning for a romantic and tranquil getaway.