02 Jan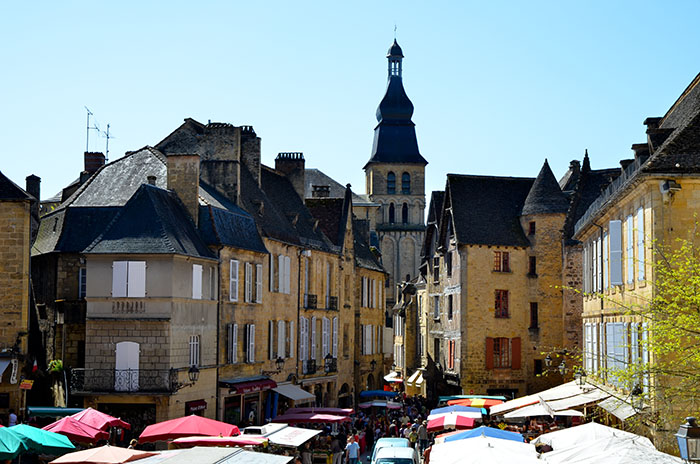 In the verdant lands of the Dordogne in south-west France, you are spoilt for choice when it comes to visiting quaint and traditional towns and villages, with fascinating architecture and sites of interest. One such town goes by the name of Sarlat-la-Canéda, which can only be described as a 'must-see' town of the Dordogne.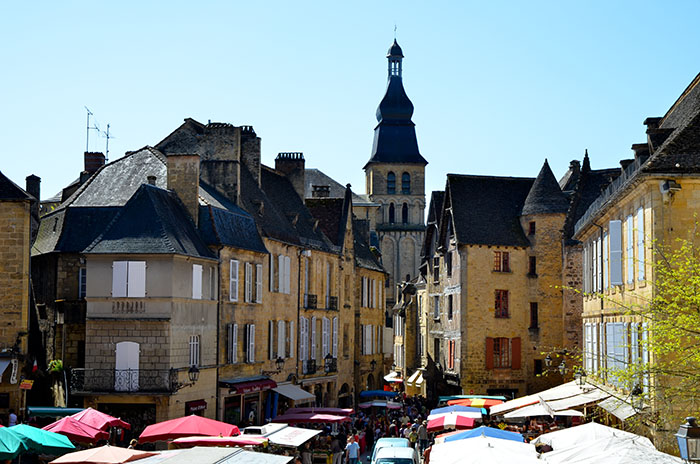 Strolling down Sarlat-la-Canéda's maze of medieval streets is a memory to cherish. This beguiling old town is situated in the heart of the Black Perigord region of the Dordogne, an area defined by its riverside chateaux, rich cuisine and winding canyon roads.
One of the Sarlat-la-Canéda's most striking features is its central Sainte-Marie Church, which was redesigned by the celebrated architect, Jean Nouvel. This beautiful church comprises of a glass lift which ascends visitors to the bell tower. This elevated position offers incredible views of Sarlat-la-Canéda sprawling out below.
The church is home to an indoor food market, where stall holders sell a host of tasty locally-made delicacies, including tantalising cheese and foie gras.
Other unmissable sites include the Castle Campagnac, the Saint-Sacerdos Cathedral, the Chapel Recollects, the Garden of Enfeus, the Manor Gisson and the Tower Executioner, to mention just a few.
An intriguing mix of Gothic and Renaissance mansions, the architecture in Sarlat-la-Canéda is astounding. In fact, this ancient Dordogne town is said to have the highest number of historic monuments in the world. The town was developed around a large Benedictine abbey and hit its peak in the 13th century.
Besides being in awe of the beautiful architecture and ancient sites, sampling the cuisine of Sarlat-la-Canéda's is an experience not to be missed. Some distinct gastronomic specialities served with passion and fervour in the town's restaurants and on market stalls are truffles, candied meats, chestnuts, porcini, and tasty peasant recipes that have been passed from generation to generation for centuries, washed down with some fine wine or champagne.
If you're looking for a slice of French authenticity, then head to the enchanting medieval town of Sarlat-la-Canéda in the heart of the incredibly beautiful Black Perigord region of the Dordogne.