04 Apr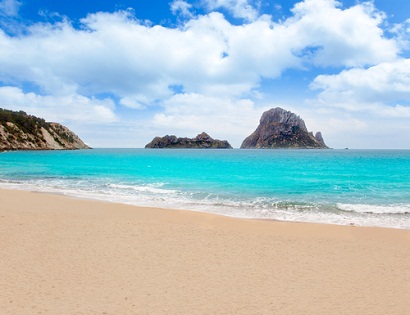 If you are looking for a beach holiday this summer, whereby great weather, beautiful beaches and blissful bathing is pretty much guaranteed, then you certainly shouldn't dismiss Ibiza. There are scores of wonderful beaches on Ibiza, many of which are tranquil and secluded and many of which are lively and bustling with activity.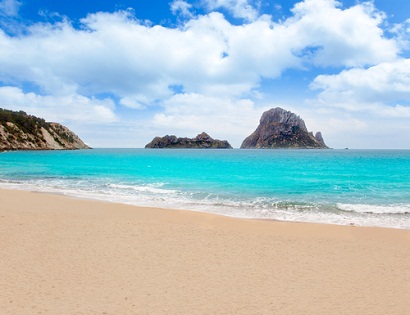 In fact it is safe to say that you are never far away from a great beach on Ibiza. Of course lovely beaches can be crowded but for those showing a little bit of flair for adventure it is possible even in high season to find peace and seclusion in a glorious sandy spot.
Take a look at four of the best beaches on Ibiza.
Cala Llentrisca
Cala Llentrisca Beach with its old timber jetty is often deserted of bathers with only fishermen for company. The sea is sapphire blue and the white sand is laden with quartz crystals, which readily take on the reflection of the sea, giving the whole beach a shimmering and slightly coloured effect.
Cala Tarida
Small coves abound close by to the tourist resort of Cala Tarida. If you are prepared to get your legs wet you can wade along the shore until you find a suitable cove. These coves are very popular nude bathing spots, so be warned! If its food you want then you should try Ses Eufebies Restaurant. Built on a rock smack in the middle of the beach, this family run restaurant sells cheap but wholesome food from a magnificent position.
Cala Llarga
The most southerly beach on the island of Ibiza and what a beauty Cala Llarga is! Pine trees and sea grass almost touch the sea, whilst rocks surround the edge, providing excellent diving opportunities. Secret and secluded, this is a beach where one can truly get away from the livelier side of Ibiza. Just behind the beach you can eat at Can Masia which has a cheap but substantial Menu Del Dia – Menu of the Day – on offer. The restaurant's Bougainvillea terrace is a particularly beautiful place to sit and absorb the beauty of the beach, under some much welcome shade.
Agua Blanca
Agua Blanca has a popular tourist beach but also has a significantly less well-known secondary beach, which requires some chest high wading or even swimming to get there. Whether you decide to enjoy the jostle and banter by bathing with other happy holidaymakers or seek seclusion in a secret subsidiary cove, Restaurante Aguas Blancas is the place to eat if you happen to be on Agua Blanca Beach.