Four of the best Tapas bars in Andalucia
The Andalucian Provence of Granada has played an essential role in Spain's spectacular history. In the Provence's capital, the City of Granada, Arab dominance influenced its culture and created one of the world's most unique and precious monuments – The Alhambra.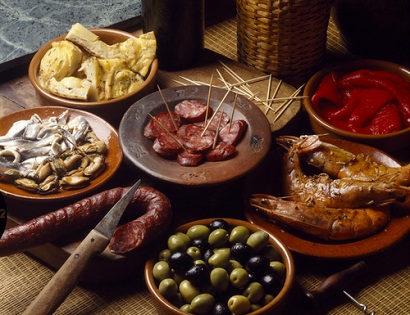 Extreme variables of landscapes and climate, flamenco music being played in underground venues with Vino del Pais being gulped abundantly, the symbol of the bull remaining a poignant landmark poised in sporadic locations around the region epitomises this traditional region.
But what really makes this region of Andalucia remain one of the most culturally unique Provence's in Spain, are the tasty snacks you receive when you order a drink – universally known as the 'tapas'.
Whilst most other regions of Spain expect payment in return for a plate of tapas, in the Granada Provence it remains a free token of gratitude.
Take a look at four of the best 'tapas bars' in the region of Baza, an agricultural market town in inland Andalucia that has retained traditionalism that many other areas of Spain have unfortunately lost.
El Kiosko
Shaded under the tree-lined village square at the top of the hill in the village of Caniles on the outskirts of Baza, the quant and quirky Bar El Kiosko can be found.
Sipping a cerveza under the shade of the trees watching the world go slowly by in this traditional Spanish village is a pleasant experience and one that is made even more pleasurable when the waiter brings out a plate of paella to accompany your drink, which is, of course, 'on the house'.
Bar El Sevillano
Submerging yourself in the pretty stone building of Bar El Sevillano in a back street of Baza, enjoying the warmth and tenderness of the family who own it, is a great way to muse away an idle afternoon on a holiday in Spain.
This welcoming family always provide delicious tapas with every drink you order and are so generous with their portions that there is no need to order any lunch!
Dublin Bar
At the other end of this interesting Andalucian town, Bar Dublin can be found, which, being located opposite a college and sports centre, is a lively bar that never fails to attract a young crowd.  You always receive great tapas in Bar Dublin and are rarely given the same one twice!
Antonio's Bar
Although perhaps the best tapas bar in this tapas-orientated region of Andalucia, is Antonio's Bar in the village of Zujar, approximately seven kilometres to the west of Baza.
With its welcoming hospitality, pints for less than 2 Euros, and tapas that seem to grow in generosity with each consecutive drink, this unpretentious bar is one of the best bars to soak up a few drinks with some delicious home-made local cuisine that is completely 'gratis'.
Why not now have a look at Vintage Travel's Andalucia luxury villas?