20 Jul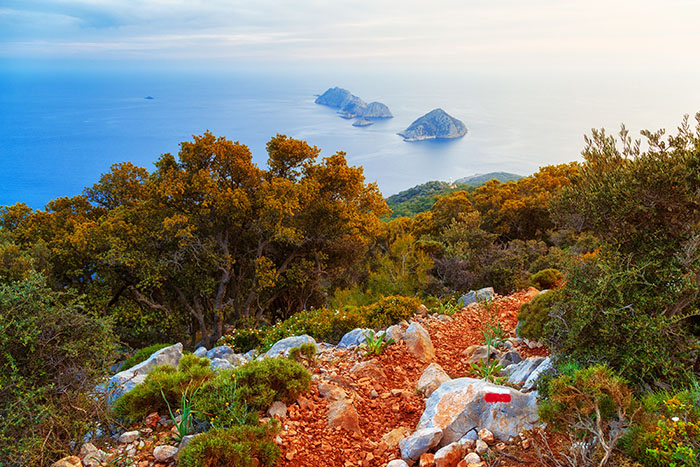 With its fine beaches lapped with cobalt waves, backed by a mountainous landscape and upmarket fishing villages, it's not difficult to understand why Turkey's southwestern shoreline is labelled the 'Turquoise Coast.'
If you are heading to this incredibly beautiful part of Turkey, take a look at the following four reasons why you should visit the breath-taking Turquoise Coast.
An undeveloped part of Turkey off the main tourist trail
As the Telegraph notes in a feature on the Turquoise Coast, the region is "one of the most refreshingly undeveloped in the Mediterranean."
The area's jagged mountain ranges, which back its pretty coves and inlets, are partly the reason for the Turquoise Coast's lack of development. The towns and villages remain pleasantly traditional yet have plenty of shops, restaurants and bars for visitors to enjoy wining, dining and shopping at their leisure.
Stroll along the Lycian Way
The Lycian Way is a 509km footpath that meanders its way along the Turquoise Coast from Fethiye to Antalya, which is ancient times was known as Lycia. Beautiful walks, bike rides and runs are there for the taking on the Lycian Way. One of the most popular spots along this extensive trail is through the pine forest to the south-west of the lighthouse on Cape Gelidonya.
Visit Gelemiş
This part of Turkey is awash with tranquil, mesmerising villages where time seems to stand still. One such village is known as Gelemiş, nestled within two hills to the north of the Roman ruins of Patara. Gelemiş is home to Turkey's longest beach. During the breeding season, this nine-mile stretch of sand is frequented by loggerhead turtles.
Witness the tomb carvings
Distinctive tombs are carved into the cliff faces on this stunning coastal region, an eternal legacy of the indigenous cultures that inhabited the area for centuries. The Lycian Tomb, a stone sarcophagus perched on a rocky plinth, is one of the most prominent of the fascinating tomb carvings that can be seen on this simply stunning stretch of Turkish coastline.