25 Aug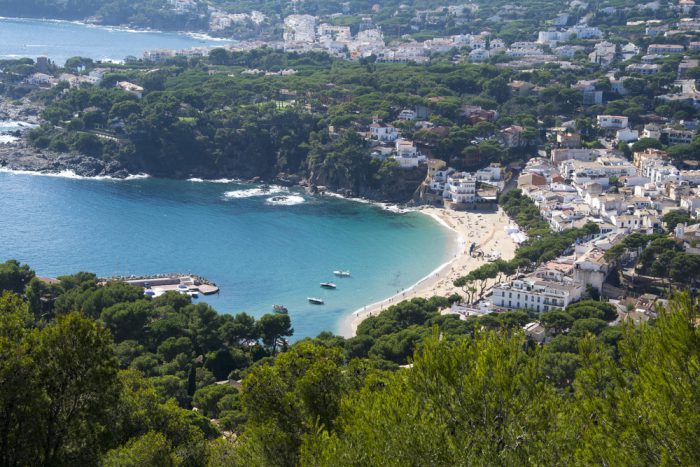 The word "Costa" can conjure up images of towering apartment blocks, thrown up to accommodate mass tourism. Spain's Costa Brava – 'Brave Coast' – is a far cry from all crowds and nightlife, with many wild and beautiful parts to its rugged and diverse coastline
This stretch of coast has some 5,885 square kilometres of natural beauty. Some of the best Blue Flag beaches can be found here, alongside horseshoe bays and empty coves. Historical towns like Girona, with its striking coloured houses, can become quieter in August when the locals head for the beach, making it a good time to drive inland and visit these unique towns and villages.
If you like the idea of lazing on clean Mediterranean beaches, without hordes of other people, try the area of coast between Pals Beach and Palamos. The picturesque bays and coves of the following villages may entice you.
Llafranc
This resort town was, and still is, visited by film stars and artists, including Salvador Dalí, and later the writer Tom Sharp, author of 'Porterhouse Blue' and 'Blott on the Landscape'. The town's sandy bay and turquoise waters reflect the low whitewashed buildings.
Calella de Palafrugell
Calella de Palafrugell, another beautiful small resort, can be reached by a picturesque stroll through a wooded headland. Take this path in the late evening and smell the Aleppo pines and Dama de Noche, a scent somewhere between orange and jasmine.
Tamariu
Not so long ago Tamariu was a quiet fishing village and is now an ideal laid-back place to take the family on an authentic holiday in the sun. You can sit in a bar and watch the kids playing on the gently sloping, safe beach of this traditional coastal resort.
Begur
This picture-perfect walled medieval hilltop town is an ideal place to spend a few hours wandering its maze of cobbled streets. Begur has plenty of restaurants, and more than a few quite quirky shops.
Did you know the Costa Brava has one of the highest concentrations of Michelin-starred chefs in the whole country? That is some incentive to try the local food here!