18 Jun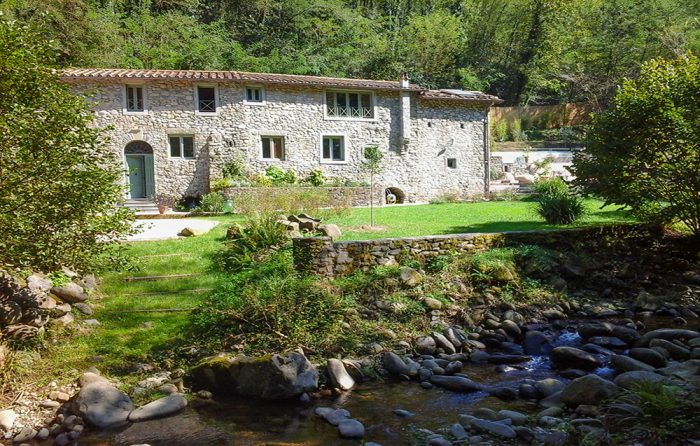 The beautifully verdant and fertile Garfagnana Valley has to be one of the most stunning parts of Tuscany. If you're lucky enough to be visiting this exceptionally pretty corner of Italy, you'll need somewhere to stay that's equally as charming, inviting and as picturesque as the countryside that surrounds it.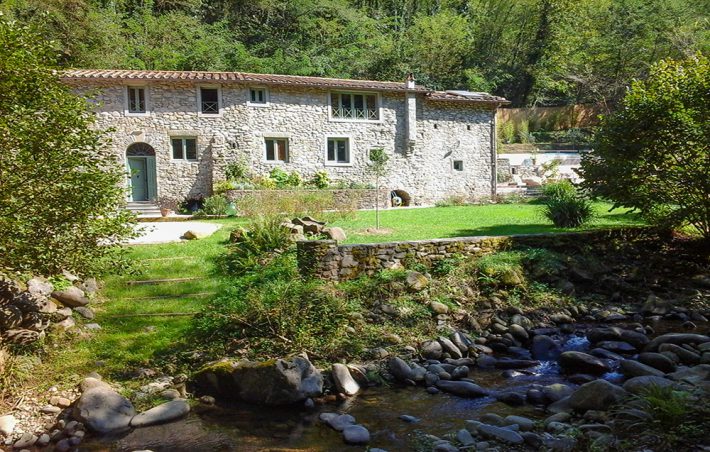 If that's the case then let us introduce you to II Mulino, an impressive 18th century stone mill. This three-bedroom, four-bathroom country home can sleep six guests in comfort.
The stone-clad mill has been beautifully restored, retaining much of its original charm and splendour, including chunky wooden beams tastefully painted in white to complement the matching walls, and cool tiles underfoot.
This renovated mill is hidden amidst a thicket of woodland down a valley to the north of the beguiling town of Lucca. The property's extensive grounds, comprising of terraced gardens and a sizeable lawn flanked by dense woodland, are a true pleasure to meander through.
II Mulino is justifiably geared towards making the most of its idyllic spot in Tuscany countryside at its most inspiring, with a barbecue and covered dining terrace to cater for many a delightful meal outdoors, not to mention a private 10m x 4m swimming pool in an elevated position at the side of the house. The garden and its many delights can be accessed with ease from the house through French doors.
If you can manage to drag yourself away from this idyllic setting, then visiting the mesmerising and traditional town of Lucca is quite simply a must. This walled town has something for everyone, culture, shopping, bars and restaurants, sightseeing, and much, much more. One fabulous way to become acquainted with Lucca is to hire bikes and cycle along the city's old walls!
Lucca is 30 minutes from the charismatic town of Fornoli, which is just 1.5km from II Mulino. This ancient town boasts a rich and vibrant history. Once a year, locals celebrate the produce that is produced in Fornoli with the priest blessing the machinery that's used to cultivate the land.
Bagni di Lucca, which is 4km from the house, is also a true pleasure to visit, famed for its thermal waters. Being near the meeting point of the River Lima and River Serchio, the area is renowned for its thrilling water sport activities.
For more information and to book to stay at this incredibly pretty stone mill in a remarkably picturesque part of Tuscany, visit II Mulino's webpage here.