La Alegria: Accommodation In Granada's Alpujarras
Las Alpujarras in the Granada province of southern Spain is an inland region of breath-taking beauty, where mountains carpeted in fir trees are interspersed by quaint and traditional villages. Amongst this oasis of natural beauty is a villa known as La Alegria.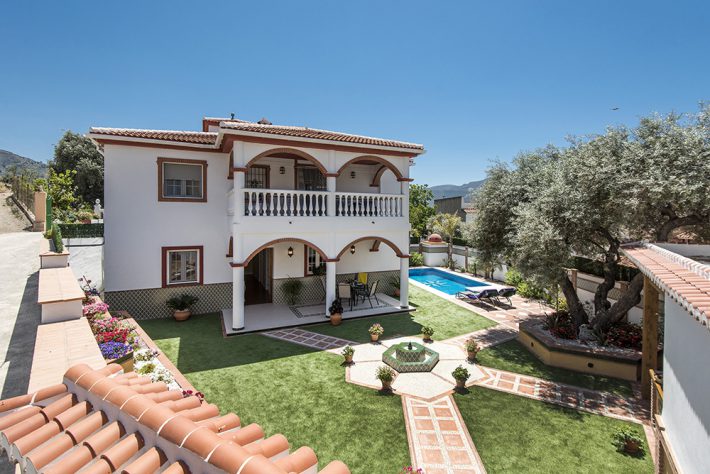 La Alegria is a two-bedroom, one-bathroom villa that sleeps four, just a stone's throw from the bustling centre of the town of Orgiva, the largest town on the western side of the Alpujarras.
This stylish accommodation is in the form of a semi-detached village house. The living quarters occupy the entire ground floor of this upmarket house. La Alegria's interior is chic and fashionable, lovingly renovated to an incredibly high standard by the property's charming owner, Rosa.
As well as a chic, all-white interior kitchen, La Alegria boasts a superbly attractive and well-equipped exterior kitchen. With an in-built barbecue, traditional Spanish tiles on the walls and underfoot, and a range of appliances and built-in units, guests can prepare meals, cook, wine and dine on the arched covered terrace and even doing the washing up, without having to step foot indoors.
And La Alegria's grounds really are a pleasure to be in. A private swimming pool is bounded by pretty flowers and shrubs, which are typical foliage of a Mediterranean climate. Guests can stroll around the villa's patios and lawns and enjoy the shade of a cluster of trees that provide a pleasant feature next to the fabulous outdoor kitchen.
Just a five-minute walk from La Alegria will bring you to the centre of the distinctive market town of Orgiva.  A relaxed atmosphere permeates this town, which is situated in the fertile valley of the Rio Guadalfeo. This bustling town has plenty of bars, shops and sites to explore.
Of course, if you are staying in the Granada province of Spain, a trip to the city of Granada simply must be part of your itinerary. Granada is steeped in history and culture, and is one of the only parts of Spain where you still get free tapas when you order a drink.
Ramble around Granada's narrow streets lined with kiosks and boutiques selling unusual, often Moroccan-inspired products before visiting the mighty Alhambra Palace, which casts a watchful eye on this vibrant city from its elevated hillside position.
If you would like to check availability to stay at La Alegria and to make a booking, visit the property's official webpage here.