05 Apr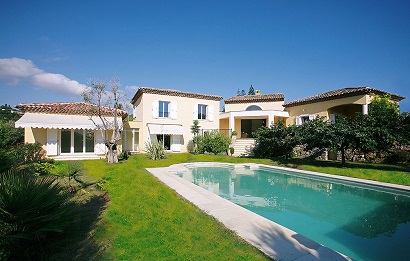 Cannes might have the glamour and worldwide fame, but nearby Mougins has certainly got the quaintness and character. Mougins is a picturesque and charming village surrounded by forests of pine, cyprus and olive trees.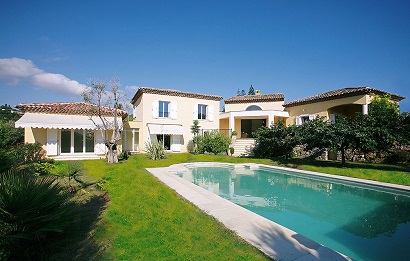 Throughout the 20th century the village itself has been both lived in and visited by artists and famous names. Pablo Picasso lived and died here from 1961 until 1973. Catherine Deneuve, Edith Piaf, Jacques Brel and our very own Winston Churchill, amongst others, have all been associated with Mougins at one time or another. Just a 6km drive inland from the razzmatazz of Cannes and the other chic coastal Cote d'Azur towns, Mougins is a beautiful inland retreat to escape to.
La Bastide de Mougins is a classy family villa on the Cote d'Azur in a swish residential estate in Mougins. The villa's enclosed gardens are well-kept with carefully manicured hedges and trees and an abundance of shrubs and plants. The views from the property are beautiful, extremely green, interspersed with colourful villas, which are also surrounded by thickets of plants and trees.
La Bastide de Mougins has four bedrooms and can sleep up to eight guests in comfort. The house is unusually-shaped, which adds to its appeal. The master bedroom for example is a separate annexe which is accessed from the garden. The huge glass front to this wonderful en-suite bedroom bestows a fantastic view of the garden and pool.
The living room and interior dining area are open plan with a tasty mix of old and modern furnishings. Stairs lead to an en-suite double bedroom with a walk in wardrobe. This bedroom is grand and magnificent and jostles for the title of 'master bedroom'. There are two more double bedrooms on the first floor, one of which has superb country views.  One the same floor, a separate bathroom ensures nobody in a party of eight is kept waiting for their morning shower. Stylish, colourful tiles decorate the bathrooms, as they do in the dining room, kitchen and living room.
La Bastide de Mougins' kitchen is modern and tasteful with patio doors leading out onto the  second outside dining terrace. You are spoilt for choice when it comes down to eating al fresco at this incredible villa. There are two major dining areas attached to the house, one of which is next to the barbecue. At the bottom of the garden beyond the private pool there is a third dining area in the shape of a pergola, which is another great place to dine as you drink in the tremendousness of the whole of the villa.
For local wining and dining look no further than Mougins, which has a renowned culinary record. Every year the village holds a gastronomic festival in September. There are some great restaurants (some with Michelin stars) and bars in the village. Art lovers are in the right place as Mougins is home to a fantastic art gallery, displaying works of masters both living and deceased. Mougins is a sophisticated village in many ways but it is a village never the less, and a pretty one at that.
For more information, to view photos, and to check out availability and pricing for La Bastide de Mougins, click HERE.