13 Jun
Vintage Travel is delighted to have added La Casiña del Picón to our portfolio of properties in Galicia, North West Spain. This stunning stone cottage boasts extensive grounds, nestled within the fertile wine-growing region of Albarino, Galicia's most southerly province, close to the Portuguese border. La Casiña del Picón is situated close to the village of Fornelos, just a couple of kilometres from the historical centre of O Rosal.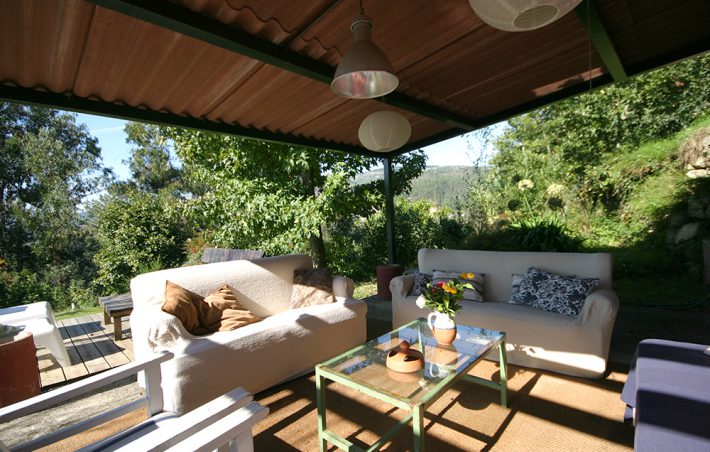 La Casiña del Picón has three bedrooms and three bathrooms, sleeping up to six guests. This delightful rural retreat blends seamlessly with the scenery that surrounds it. Enclosed by mature foliage, cobbled patios and a network of pretty stone walls, La Casiña del Picón epitomises the notion of a tranquil break in an idyllic rural location.
Two natural pools, fed by a mountain stream, augment the natural splendour of La Casiña del Picón's exterior. On the lower tier of these extensive grounds is a private swimming pool, where guests can enjoy a relaxing swim in the heavenly surroundings.
La Casiña del Picón's interior is equally as charming. With wooden beamed ceilings and exposed stone walls, this pretty cottage boasts a cosy and rustic interior that's in keeping with its bucolic environment outside. The cottage's south-facing, open-plan living room makes the most of the view, which extends over woodland and fields towards the River Mino, via a wide picture window in the living room.
Despite its rural location, La Casiña del Picón boasts mod-cons designed to make your stay in southern Galicia as comfortable as possible, including Wi-Fi, TV, DVD, CD, a microwave and washing machine. Guests with a penchant for ping pong, will be pleased to learn the cottage has its own table tennis facility.
Aside from exploring the beautiful countryside that surrounds La Casiña del Picón, quality beaches are within easy reach of this country retreat. Delicious Galician food is also close by, as La Casiña del Picón is just 700 metres from its closest restaurant, which can be reached down a country lane.
To view photos and to check availability to stay at this cosy rural cottage in southern Galicia, not far from the Portuguese border, visit La Casiña del Picón's official webpage.