09 Mar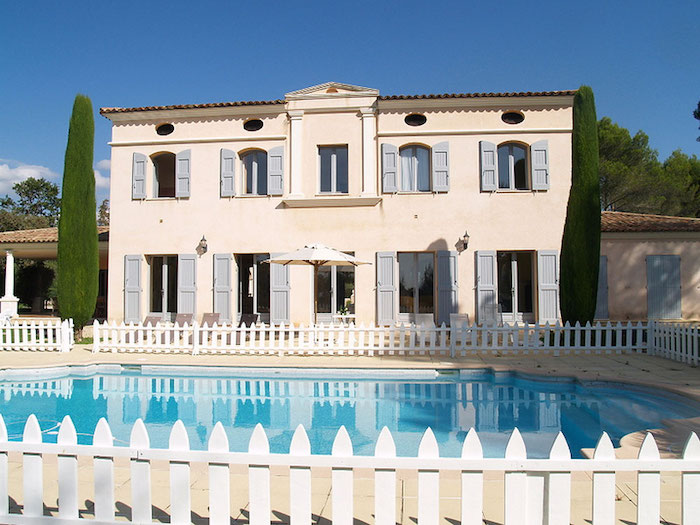 La Demeure du Rouret is a large, impressive country home which, with five bedrooms and five bathrooms, can sleep between 10 and 11 guests. This stately house is set within a hectare of wooded parkland just 13 kilometres from Cannes.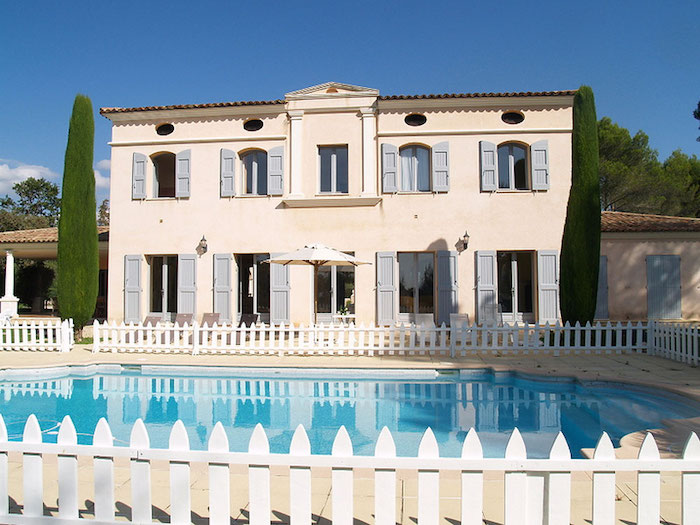 La Demeure du Rouret would be ideal holiday accommodation for a large group wanting to be close to the beautiful and world-renowned coastline of the Cote d'Azur.
The approach to La Demeure du Rouret is an experience in itself. A sweeping driveway lined with fragrant pine trees paves its way to La Demeure du Rouret's impressive courtyard entrance. With an elegant fountain in the centre of the courtyard, you'd be right to expect that you have arrived somewhere special.
Inside, terracotta tiled floors maintain a Provincial feel to the décor. The huge living room is bathed in light let through several sets of French doors that lead onto the impressive swimming pool terrace.
For guests arriving in early or late summer, this vast open-plan dining/living room can be kept warm with an open fireplace.
All five of La Demeure du Rouret's bedrooms are furnished in a tasteful and elegant style and are all en-suite. One of the double bedrooms features an extra single bed to cater for a young child.
As luxurious and elegant as La Demeure du Rouret's interior, step outside and you enter a world of deluxe glamour that this part of the world is renowned for.
A huge expanse of emerald grass makes up a well-maintained lawn. The lawn backs onto La Demeure du Rouret's wooded parkland, which is great for exploring, playing hide and seek, taking photos and, of course, enjoying some shade from the sun which can be pretty intense in southern France during the summer.
Equally, as relaxing as spending time on holiday lounging around sunbathing, reading a book and having the occasional siesta is enjoying some exercise in the sun. With its own full-size tennis court and private swimming pool, La Demeure du Rouret is well-equipped for the more active of holidaymakers.
With a built-in barbecue and covered dining terrace, this impressive country home is also geared towards some serious wining and dining under the cloudless Provencal sky.
Whilst leaving the luxury confines of La Demeure du Rouret won't be easy, there is a world of beauty, high culture, glamour and excitement simply waiting to be discovered on La Demeure du Rouret's doorstep.
A short stroll along a pretty footpath that leads from the house brings you to the centre of Le Rouret.
Le Rouret is a quintessential Provincial village which is surrounded by fertile lands of grapes, rose, jasmine and olive trees. Slightly further away will bring you to the larger town of Valbonne, a beautiful medieval village that has been loved by Brits since Princess Margaret made in famous by holidaying there in the sixties.
And then of course there is Cannes, which being just 13 kilometres from La Demeure du Rouret, is simply waiting to be explored.
For more information and to book to stay at La Demeure du Rouret visit: https://www.vintagetravel.co.uk/villa_details.cfm?p_id=2339