15 Jun
If you are looking for exquisite accommodation in South-West France that can sleep larger parties of up to eight guests, then look no further than the beautiful rural house that goes by the name of La Sérénité.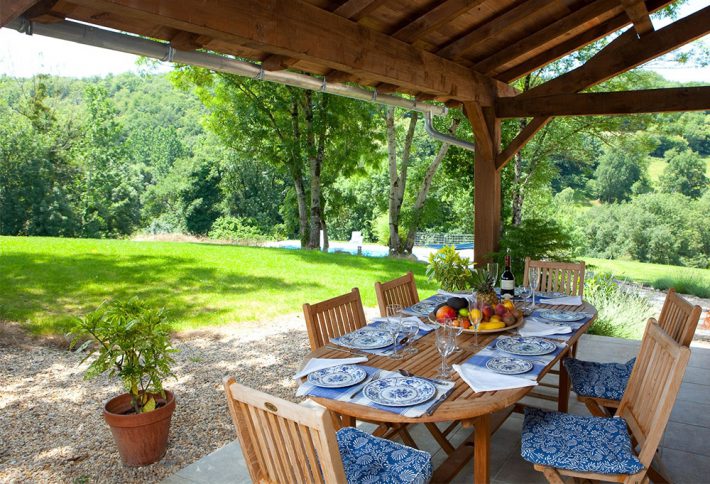 This exceptionally pretty stone-clad four-bedroom, three-bathroom farmhouse is nestled on the side of the hill at the end of a tranquil valley, not far from the medieval bastide of Najac. This beautifully-restored farmhouse is brimming with characterful and original features, including exposed stone walls and wooden beams overhead. Its traditional bucolic style is enlivened with a modern twist, with strikingly designed tiles underfoot.
Guests staying in the two bedrooms on the top floor of La Sérénité can enjoy sleeping amongst the wooden rafters, a fabulous feature of this charming farmhouse. For parties comprising of guests wanting their own degree of privacy, a pretty double bedroom has its own access to the garden and the property's private pool.
Externally, La Sérénité is as delightful as its interior, with a dining terrace framed by two ancient walnut trees, providing some much-needed shade from the sun. Similarly, a huddle of ash trees, which are lit up after dusk, provide shade near the pool area.
La Sérénité's heating swimming pool makes the most of the incredible views that surround the farmhouse, that stretch across Aveyron river gorges, lined by a maze of verdant forests and fields, offering a beautiful contrast to the cobalt and often cloudless sky above.
Just 3km from La Sérénité is the village of La Fouillade, home to a couple of cafes and shops. Slightly further afield, 6km from La Sérénité, is the perched bastide of Najac. Poised along a long rocky ridge, Najac is essentially made up of a single street with an imposing château at one end.
You can view photos, check availability and book to stay at the stunning La Sérénité here.