19 Mar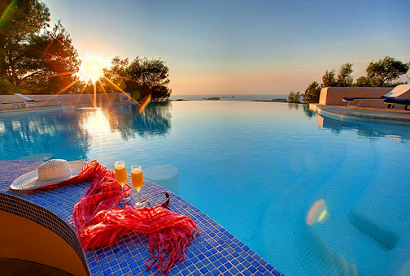 Sometimes a villa comes along that 'Wow' just doesn't do it. This would certainly apply to Vintage Travel's La Vista, a stunning villa in Ibiza near San Agustin.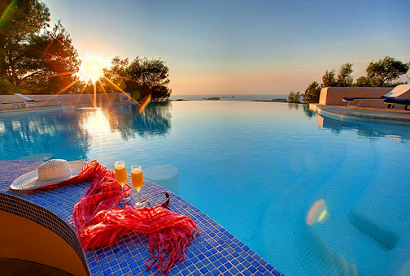 This five bedroom / five bathroom property is outstanding in every way and tucked away, allowing for the most private of holidays. The villa has an Ibicencan feel with terracotta tones blended with earthy reds and calming beiges. The large kitchen / dining area is modern and practical, with everything you might require.
But let's get back to that pool….
The 'omega' shaped pool has been designed to give visitors the best experience possible, it truly is a very special part of Villa La Vista and has to be the best swim up bar villa in Ibiza.
AOL Travel recently picked up on La Vista, listing it as having one of the best swim up bars in the world.
The pool is an impressive 18m x 10m at its widest points and has a long infinity edge, looking out onto wonderful views. The 'swim-up' bar with sunken bar stools is the 'icing on the cake'.
If you are looking for a villa in Ibiza that will continuously impress, La Vista is a good option. To read more about the best swim up bar villa in Ibiza and to book your dream holiday villa, click on the link.