08 Feb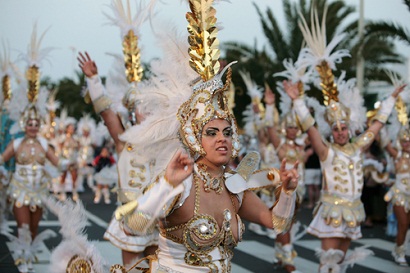 If you are in London and happen to see are rather bright, obscure and intriguing poster peppered across the walls mentioning the 'Teguise Carnival 2012', then take another look, as what you are looking at is a promotion of what promises to be a compelling, lively and memorable carnival, held on the beautiful island of Lanzarote this year.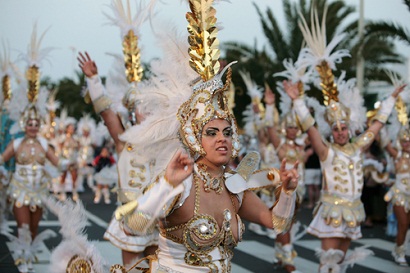 Late last year, Teguise council "pulled out all the stops" to get a poster of the forthcoming fair displayed in front of a large number of potential tourists, and exhibited the poster at the tourism fair held at the Excel in London in November last year.
The design for the Teguise Carnival 2012 promotion, which is titled, "Marina tiene Carnaval", was created by Adrian Gonzales Armas, who won a competition for the best designed poster for the Teguise Carnival.
The Teguise Carnival 2012 itself will take place from 1 – 4 March 2012. Year after year, this energetic event attracts thousands of visitors to Teguise's streets to join in the lively celebrations.
Dating back to the seventh century, the Teguise Carnival maintains a commitment to practising many age-old traditions during the four days of carnival fun, including an activity known as the 'Dance of the Diabletes', whereby a handful of locals masked and horned chase away tourists and locals alike.
This somewhat bizarre event remains one of the most popular features of the Teguise Carnival, despite some local disapproval to the 'roughness' of the Dance of the Diabletes.
Like almost every carnival to take place in Spain, the Teguise Carnival vaunts a surplus of street parades, dancing, live music, elaborate meals and plenty of drinking. To mark the beginning of the festival a torch-lit procession makes its way through the streets of Teguise, a charismatic start to an entrancing event.
The town of Teguise is one of the most important tourist resorts on the whole of Lanzarote, which, unlike its modern coastal neighbour, is brimming with history, which in dating back to the early 1400s, lays claim to being the oldest Spanish settlement in the whole of the Canary Islands.
With the flowers beginning to bud, the weather beginning to warm up, and without a congestion of tourists, March is a particularly pleasant time to visit Lanzarote, and if your trip is accompanied with historical and cultural yearnings, then be sure to put Teguise Carnival 2012 on your itinerary.
And for a luxury villa on Costa Teguise, just click the link. Cortijo de Cabreron oozes rustic charm and has its own private pool.