20 Dec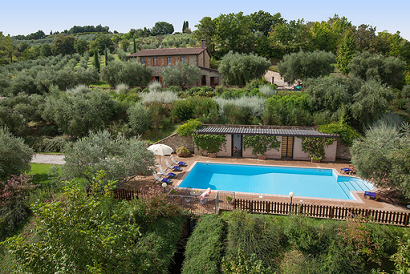 There is something unique about Umbria. Apart from being the only region in Italy to have neither a coastline nor a common border with other countries, much of Umbria's uniqueness stems from the fact it is both historic and modern at the same time.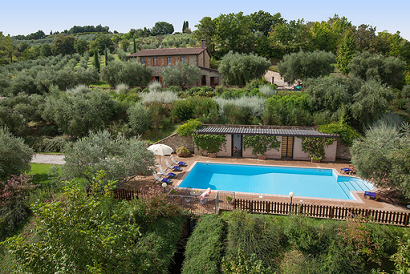 We also cannot ignore the fact that Umbria has the stunning Lake Trasimeno and all its accompanying delights on its diverse, lush and exceptionally photogenic landscape. If you are looking for a European destination that comprises of history, contemporary glamour, breathtaking scenery and an undisturbed tranquillity, you'll find it all in Umbria, and more besides.
For a house that does the region justice we recommend Casale Anna. This immaculate six bedroom family villa in Umbria is snuggled amongst 22 hectares of olive groves and fields filled with vines.
The house boasts superb panoramic views of the verdant Tiber Valley that stretches out to the mighty Mount Subasio. As well as being right in the heart of such rural bliss, Casale Anna is just a kilometre from the atmospheric village of Montelaguardia, which has a handful of restaurants, bars and shops for a convenient quick fix of mouthwatering local cuisine.
What's more, the legendary hilltop town of Perugia is just seven kilometres from the house. This lively medieval walled town comprises of an eclectic mix of historic buildings, vibrant squares strewn with people, modern shops, renowned restaurants and that's just for starters.
Yes, it's safe to say that's there's plenty of action and culture awaiting close by to Casale Anna. That's if you can manage to muster up the enthusiasm to leave this utterly divine property that is. Restored in a rural Umbrian style, rustic beams, traditional furnishings and terracotta tiles compliment Casale Anna's surroundings impeccably.
The huge country kitchen will light up the eyes of amateur and professional cooks alike and will go a long way in influencing your decision to either eat out in one of the exquisite nearby restaurants or rustle up some Umbrian delight in this beautiful and well-equipped country kitchen.
Being right in the thick of the "Green Heart of Italy" – a name that is fondly given to Umbria – Casale Anna is very much geared towards outdoor living so those who have the privilege of staying here can make the most of the wonderful views. As a consequence, the house has a number of terraces where wining and dining, sunbathing or simply relaxing and reading a book can be enjoyed in equal doses.
The property's huge private pool is a real focal point, meticulously positioned to behold panoramic views. There could not be a more pleasant way to dry down after a dip in the pool than meandering through the pretty well-maintained garden, becoming acquainted with the unparalleled beauty of the natural surroundings.
We couldn't blame you for wanting to learn more about Umbria's Casale Anna. For photos, prices, availability visit: vintagetravel.co.uk.