01 Dec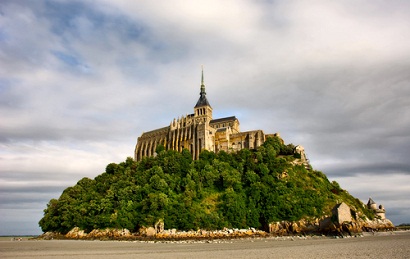 The marvellous pyramid-shaped rocky island of Le Mont Saint-Michel is to be found just over Brittany's border with Normandy, one kilometre out to sea at the mouth of the River Couesnon, not far from Avranches.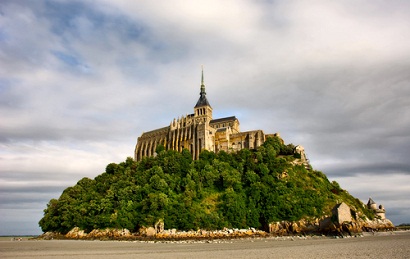 Le Mont Saint-Michel was declared a UNESCO world heritage site in 1979 and attracts more than three and a half million tourists and pilgrims each year.
Sometimes referred to as "The wonder of the Western world", Le Mont Saint-Michel certainly is a 'must see' French cultural, geographical and historical attraction.
Surrounded by the sea, during high tide, Le Mont is affected by the highest tide in Europe with up to 15 metres height difference between high and low tide. During spring tides the sea retreats by 15 kilometres and returns extremely quickly.
The Bishop of Avranches built and consecrated a church here in 709 A.D. Legend has it that the previous year, the Bishop was visited by the Archangel Michel and was instructed to build a church. When he did not do as he was told, the Archangel is said to have 'burned a hole in the Bishop's head with his finger!' The Bishop then built the church immediately.
The Romanesque abbey church on the island was built around 1000 AD and various buildings and extensions were added over the ensuing centuries.
In the sixth and seventh centuries Mont Saint-Michel was used an Armorican stronghold of Gallo–Roman culture, until it was eventually raided by the Franks, a confederation of Germanic tribes.
During the French Revolution Mont Saint-Michel became a prison and gradually fell into ill-repair. In the following years, several influential figures, such as Victor Hugo, campaigned for Mont Saint-Michel to be restored and resurrected. In the latter part of the 19th century the Abbey and its surrounding buildings were restored to their former glory.
On arrival to Mont Saint-Michel, visitors walk through the grandiose entrance to the medieval town, past the guardroom, which is now a tourist office, through the Boulevard Gate and then through the Kings Gate, fortified flamboyantly with splendid portcullis.
On the town's main street, you will find shops, restaurants and four museums. A ticket to enter all four of the museums can be bought for approximately 20 Euros.
Proceed up the main street to the grand staircase past numerous 15th and 16th buildings. The staircase leads to the Abbey Church, a true architectural marvel that dominates the island's vista. A final walk down the rampart path gives the visitor unrivalled views of the seascape across the bay.
Le Mont Saint-Michel is a real five star place to visit. You will however need a good full day at the Mont Saint-Michel to make the most of this true 'Wonder of the Western World.'
Why not take a look at Vintage Travel's collections of luxury villas in France?