26 Apr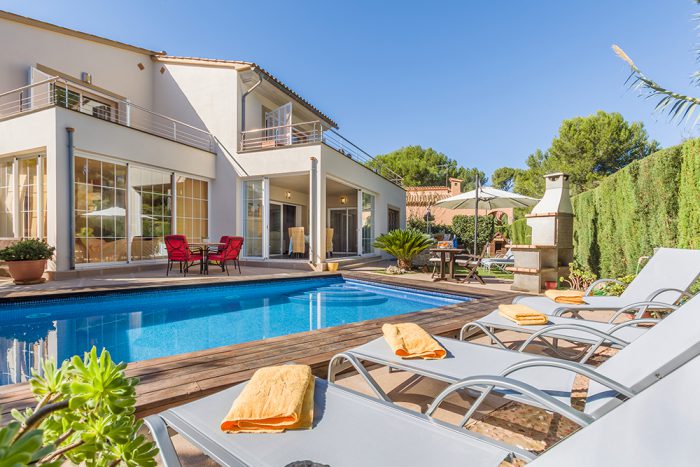 Villa Elena is the newest addition to our portfolio of self-catering accommodation on Mallorca. This spacious, contemporary villa has four bedrooms and five bathrooms, sleeping up to eight guests, making it perfect for a party comprising of two families.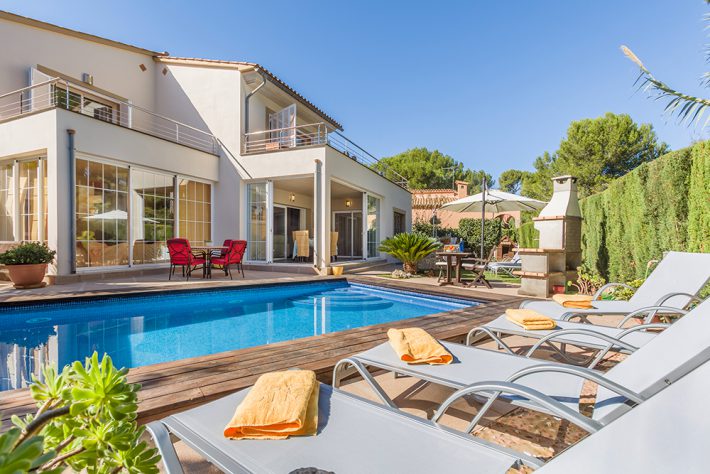 Villa Elena is located near the old town of Alcudia to the North East of the island. It is set within attractive grounds on a quiet residential cul-de-sac, just 350 metres from a shop and two restaurants. There's a marina is just 500 metres from the house, which is home to a another high-quality restaurant.
Lazy days on the beach are there for the taking, with the soft sandy beach of San Pere just 600 metres from Villa Elena. Slightly further on foot will bring you to the equally as attractive San Joan beach, which is 800 metres from the villa.
Though despite all the convenience and enjoyment on your doorstep, Villa Elena itself has plenty on offer. Internally, the villa is decorated to a high standard, with tasteful colour schemes, comfortable furnishings, and a modern kitchen comprising of everything the chef of the party will need.
A fully-glazed dining room is a fantastic spot to enjoy those holiday meals, or if you want to take the meal outdoors, the doors can be slid open and the meal devoured in the fresh air.
Each of Villa Elena's bedrooms is en-suite, meaning guests don't have to rush for the bathroom every morning!
This modern villa's exterior is as inviting as its interior, with a large private pool taking centre stage in the property's grounds. The spacious paved area around the pool provides the perfect spot to relax and bask under the warm, Mallorca sunshine.
A large, built-in brick barbecue means guests can sizzle some delights on an open flame, which can then be eaten at one of Villa Elena's external seating areas.
Villa Elena is just 1.8 kilometres from the old town of Alcudia, home to a beautiful medieval centre and an authentic local vibe. Here you'll find plenty of shops, bars, restaurants and sites to enjoy and experience a touch of true Mallorca.
Just over 12 kilometres from the villa is the historic town of Pollenca, another popular hub of this north-eastern corner of the island, which again, benefits from a traditional culture and heritage that hasn't been lost to mass tourism.
If you require more information about Villa Elena, would like to view photos of the property or to make a booking, visit the Villa Elena webpage here.