Looking for a villa in Spain with a large private swimming pool? Here's three for starters…
From keen swimmers intent on doing umpteen lengths before breakfast, to families with children keen on splashing around and having fun in the water all day, there's nothing quite like a large private swimming pool to make a holiday in the sun fun, memorable and special.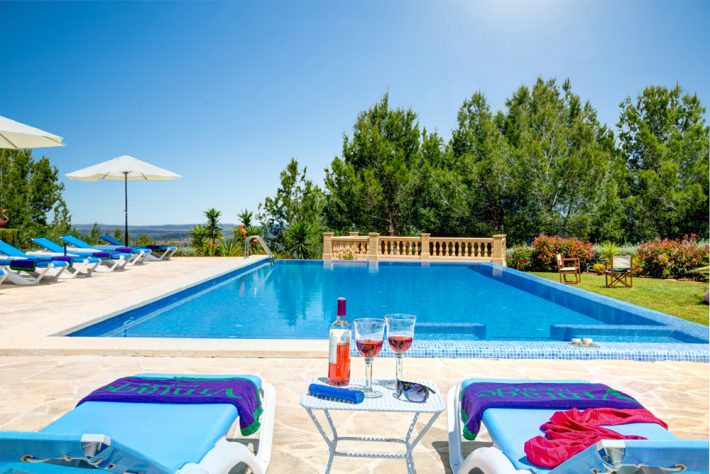 Dedicated to fulfilling our clients holiday aspirations, Vintage Travel have a number of villas available to hire in Spain with a large private swimming pool.
Puig d'Es Mila, Felanitx, Mallorca
For larger groups of up to ten looking to stay in a stylish villa in an outstanding location on the sun-drenched island of Mallorca, look no further than Puig d'Es Mila. This imposing five-bedroom, six-bathroom property is nestled on a hillside below the iconic San Salvador monastery just 3.7km from the bustling little market town of Felanitx.
The focal point of this beautiful villa is undoubtedly its large 13m x 6m private swimming pool with two infinity edges and a dedicated hot tub area. At Puig d'Es Mila, there is even a separate circular children's pool with a 2.5m diameter.
Hacienda Los Olivos, Ronda, Andalusia
The four-bedroom, three-bathroom rural retreat known as Hacienda Los Olivos provides spacious accommodation for eight guests in the heart of Andalusia's mountainous inland landscape just a 10-minute drive from the fabulous whitewashed village of Ronda.
Asides playing tennis on a private court, having a memorable barbecue on the terrace area, or meandering round the villa's verdant gardens, guests can spread out and splash about in Hacienda Los Olivos's large 12m x 6m swimming pool.
Holganza, Sant Marti d'Empuries, Costa Brava
From Andalucía in southern Spain to the Costa Brava in Catalonia, Spain's enviable climate is made for swimming outside. Another villa that's also geared towards al fresco swimming is Holganza in Sant Marti d'Empuries on the Costa Brava.
This stylish, contemporary villa sleeps six guests who can enjoy bathing in a large 12m x 4m private swimming pool with corner steps.