Looking for a villa with a tennis court? Have a look here!
There's nothing quite like playing tennis on your own private court with the sun shining down, overlooking panoramic views of countryside at its most stunning. Sounds too good to be true? Not if you stay in one of these stylish Vintage Travel villas with their own private tennis courts…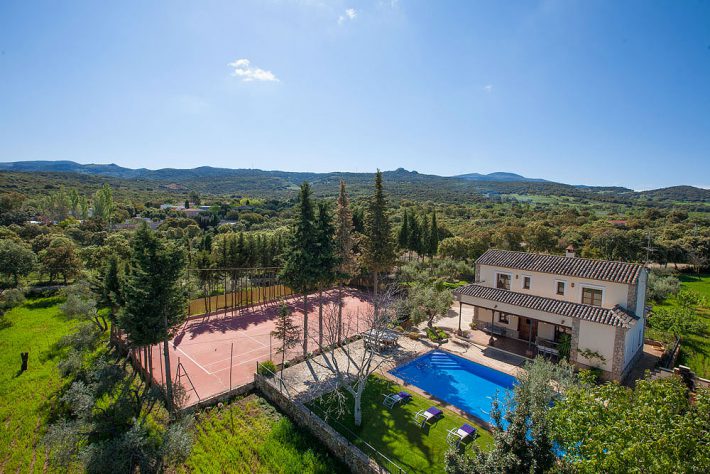 Villa Serena
Set within the verdant, rolling landscape of the Siena province of Tuscany, is Villa Serena. With three bedrooms and three bathrooms, this superb villa sleeps six guests. As well as splashing about in the large, kidney-shaped pool, guests staying at Villa Serena can enjoy a lively game of tennis on the property's private court. Though if basketball is more up your street, this exquisite villa in the heart of the Tuscan hills even has its own basketball court!
Casa do Sol
The Algarve basks in sunshine virtually all year round, so if tennis is one of your favourite pastimes, why not head to sunny southern Portugal and enjoy playing tennis to your heart's content on your own private court?
The six-bedroom, six-bathroom villa of Casa do Sol in the Algarve has its own all-weather tennis court, where the 12 guests that can stay in this fabulous contemporary villa could even have their own tennis tournament! As well as tennis, Casa do Sol boasts a private heated swimming pool, a separate circular heated children's pool and a table football – accommodation designed for sporty types!
Hacienda Los Olivos
The whitewashed town of Ronda surrounded by Andalusia's dramatic mountainous landscape is a true marvel to visit and experience authentic Spanish life. If you're looking for somewhere special to stay in the stunning 'puebla blanca' of Ronda, with its own private tennis court, look no further than the spectacular Hacienda Los Olivos.
This four-bedroom, three-bathroom villa nestled in the countryside near Ronda, sleeps eight guests. Next to the property's private swimming pool is an all-weather tennis court where you can enjoy a game whilst surrounded by the most inspiring of Andalusian landscapes.