04 Apr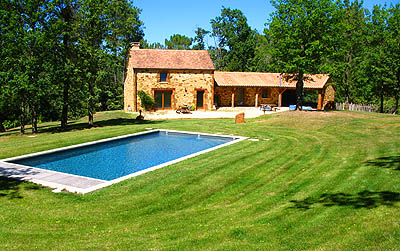 France's 'Lot' has a lot to offer including the stunning Lou Calvel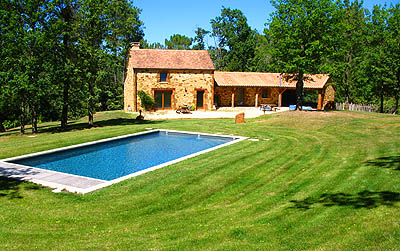 Having been described as a "haven of tranquillity", one would expect something spectacular of 'Lou Calvel'. And one would not be disappointed, as this two bedroom, three bathroom villa, situated amongst private woodland in the exceptionally pretty Lot region of south west France, really does take the concept of idyllic isolation to new heights.
Renovated to an exceptionally high standard, this beautiful country house is flanked by woodland from every direction, ensuring its large pool, flawless lawns and covered terrace, are well and truly 'private'. On the inside, Lou Calvel is equally as stunning. With its heavy wooden doors, reclaimed stone basin sink set into the wall of the living area, beamed wooden ceilings and open tread staircase, Lou Calvel is a magnificent, grand and inspirational country house.
This stunning villa is located five kilometres from the village of Cazals and 30km from the large town of Cahors. Apart from exploring the beautiful countryside, bounteous of bluebells, posies and orchids, by either on foot or on bike, the area is full of places to explore which caters for all the family.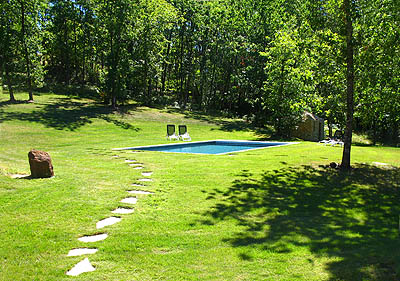 'Le Musee Art du Chocolate' in Lisle sur Tarn is a particularly popular place to visit, especially with children. This small museum displays the unique sculptures of Michael Thomaso-Defos, whose passion for chocolate resulted in some inspirational works of art, which have been said to be "the answer to the chocolate lover's wildest dreams".
Chateau Cenevieres is another 'must see' site of the Lot region of south west France. This magnificent chateau is one of the most beautiful Renaissance castles of Quercy, and, with its records dating back to as early a 767, the castle clings on to a wonderfully rich and colourful past.
Chateau Cenevieres is located six kilometres from Saint-Cirq Lapopie and offers a fantastic family day out, particularly in the summer months when art exhibitions and medieval days with re-enacted battles and musical performances are regularly held in the castle.
Alternatively you could just potter around Lou Calvel for the whole duration of your holiday. Either way a trip to the region of Lot and Lou Calvel promises to be a fascinating holiday.
Availability in Lou Calvel begins at the end of June, when a week's rental costs £795, rising to £1695 in peak season.