Luxury accommodation on the Algarve that is close to wildlife – Casa das Lajes
For accommodation on the Algarve that is close to wildlife, Casa das Lajes puts you in the heart of the Algarve countryside. This spacious three-bedroom house is surrounded by natural tranquility, amidst the beauty of the Serra da Caldeirao.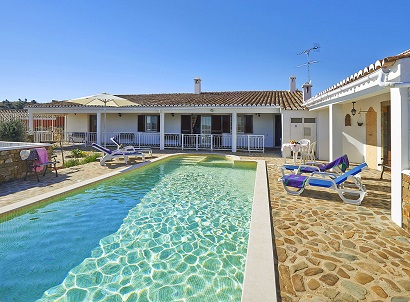 The Serra da Caldeirao is a protected region of the Algarve, which comprises of a verdant mesh of dense pine woodland, rolling hills and fertile valleys, lapped by roaming rivers.
This sparsely populated region of Portugal is intermittently dispersed by traditional hamlets of tight-knit communities. Despite their traditionalism, the friendly locals embrace visitors with open arms.
It is within this idyllic rural Algarvan bliss you can find Casa das Lajes.
The whole of the property has a distinct traditional Portuguese feel. The open-plan living room, dining room and kitchen, radiate style and comfort. The imposing wooden beams and cane-lined ceilings are testament of this part of the Algarve's commitment to cling on its natural splendor and timeless, traditional values. Yet regardless of its refreshingly eternal style, Casa das Lajes, comprises of all the mod-cons to make your holiday in the Algarve as convenient and relaxing as it deserves to be.
Casa das Lajes' exterior is equally as inspiring and inviting. The property's large private pool is enclosed by a gated fence, which is an advantageous asset to families with young children. Open and shaded terraces give guests the option of enjoying soaking up the warm Algarve sun or soaking in the views under the welcoming confines of the shade.
The surrounding countryside is a haven for cyclists, walkers, bird watchers and wildlife enthusiasts. A diverse variety of flora and fauna have been spotted in the Serra da Caldeirao, and none more so than a myriad of unusual species of birds. These diverse species of birds and birds of prey that have been sighted in this wildlife haven include Blue Warbler,  Common Redstart, Goshawk, Red-rumped swallow, Blue Rock Thrush, the Bonellis' Eagle and Short toed Eagle, amongst others.
For more information, photos and availability to stay at Casa das Lajes click HERE.