31 May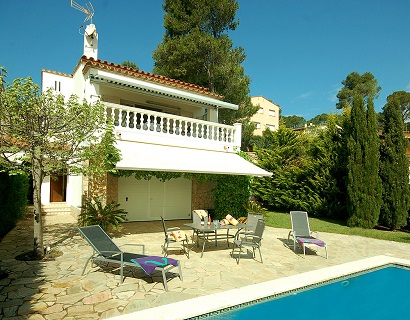 Close to the traditional market town of Torroella de Montgri and the busier coastal resort of Estartit, the Costa Brava's Casa Torre Vella offers the best of both worlds – Culture, history and inspiring architecture or the traditional tourist highlights of any swinging yet upmarket coastal town.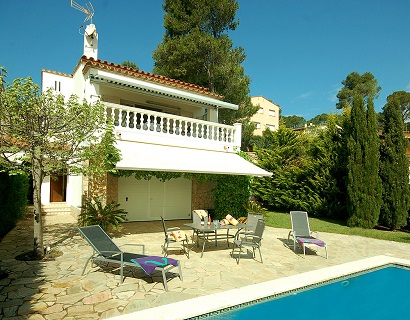 Being well placed between two contrasting worlds visitors can enjoy many medieval buildings, villages and fortifications, such as the imposing Montgri Castle, which dominates the skyline of the nearby mountains one day. The following day they can visit the likes of Estartit, filled with all the usual ingredients of a thriving  up-to-date holiday destination.
Alternatively you could spend the day lounging around Casa Torre Vella and its grounds, and being as stylish and stunning as this Spanish villa is, we can't say we'd blame you.
Casa Torre Velle's enclosed garden is green and natural with plenty of trees and shrubs. The view from the terrace over the southern end of The Bay of Roses is simply eye-watering. With an elevated position, in Casa Torre Vella you can see greenery from almost every window. The blue Mediterranean Sea framed by the Catalan countryside makes a scene that's unrivalled by nowhere.
The spacious pool is ideal for splashing about or enjoying a good swim. The poolside terrace is large and enticing, perfect for drying off in the sun and soaking in the views after a dip in the pool.
Casa Torre Vella sleeps six in two twin bedrooms on the ground floor and double bedroom on the first floor. The master bedroom adjoins a spacious upper terrace from where glimpses of the  Mediterranean twinkle through the window. Marble effect floor tiles work really well in the house, giving it an authentic Spanish feel.
Chunky balustrades run along the upper terrace casting shadows across the tiled floor and a mint striped awning provides subtle shade. Distinctly Spanish in style, Casa Torre Vella will help you settle straight into a local lifestyle upon your arrival.
Shops and restaurants are not too far away but it is the old market town of Torroella de Montgri where you will find the pick of the crop when it comes to dining out. You could try Palau Lo Mirador or Fonda Mitja Restaurante both of which have had great reviews.
For more information, to see photos and for availability and booking of Casa Torre Vella click HERE.