Luxury villa near Cannes – Bastide de Mougins
Vintage Travel is delighted to have recently added Le Bastide de Mougins to its portfolio of villas on the Cote d'Azur. Just a five minute drive from Mougins and six kilometres from the glamorous city of Cannes, Bastide de Mougins is the perfect spot to get a taste of the Cote d'Azur at its most desirable.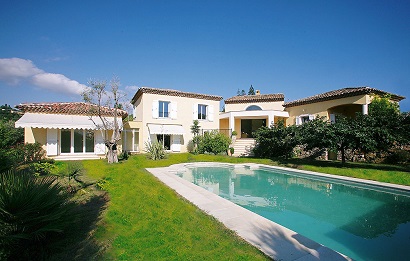 Nestled in a private residential area of upmarket villas that enjoy incredible views of the sprawling nearby hills, this stylish villa captures the essence of exclusive life on the French Riviera.
With three large double bedrooms, two stylish bathrooms and huge open-plan living/dining room, up to eight guests can spread out in luxury and comfort in Le Bastide de Mougins. In addition to the main house, this interesting property has an annexe attached, which has its own double bedroom and en-suite bathroom. Guests can access the annexe accommodation separately via an entrance in the garden.
Combining tasteful modern furniture with antique furnishings, one gets a sense of refined palate and tasteful opulence in Le Bastide de Mougins. Patio doors not only let floods of light to pour into the living room but they also provides snippets of the many external delights that await Le Bastide de Mougin's guests.
The villa's magnificent garden and private pool can be accessed via the patio doors. Once outside in Le Bastide de Mougins' stunning grounds, guests have an arduous choice to make between swimming in the large, private pool, wining and dining under shaded dining terrace, meandering round the lawn that's fringed by olive, palm and fruit trees, or enjoying a drink, book or snooze on the pergola-covered patio that's adjacent to the pool.
Despite the many luxury delights at your disposal at Le Bastide de Mougins, plenty await you outside the villa. The hilltop village of Mougins for starters. This beautiful, old village is brimming with quality restaurants, quirky and interesting boutiques and of course plenty of interesting art galleries. The emphasis on the art galleries the village is home to undoubtedly stems from the fact Picasso lived in Mougins from 1961 and 1973 and of course this part of France is one of the most commonly recaptured on the artist's easel.
For a day on the beach, look no further than Cannes. The glamour and exclusiveness of Cannes need little introduction. This exquisite Cote d'Azur coastal town boasts seven and a half kilometres of soft, golden sand. Cannes works hard to maintain the beauty of its beaches, and consequently spend 650,000 euros a year reclaiming 25,000 cubic metres of sand from the sea.
To discover this exceptionally special part of the year in the comfort and luxury it deserves, Le Bastide de Mougins would certainly be a good choice of accommodation.
For more information and photos of Le Bastide de Mougins, click HERE.