25 Jul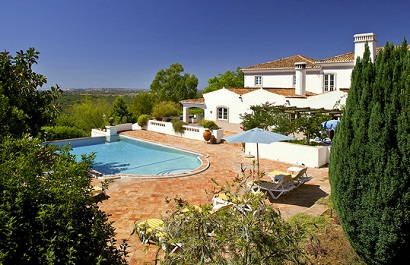 Unlike the tranquil and lucid waters of the Mediterranean, the Atlantic Ocean is dramatic, rugged and wild and possesses a menacing exhilaration that is not as prevalent in the 'calmer' oceans, such as the Med.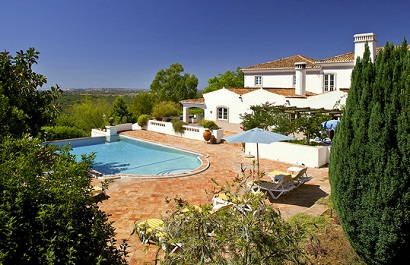 It is within this invigorating setting that the luxury villa on the Algarve, Quinta dos Tomilhos lies, an exceptional five bedroom country residence that brags a commanding panoramic view of the lifting coastline from Faro to the mighty distant Monchique Mountains.
This sensationally grand villa is located at Malhou close to the village of Boliqueime, a village that despite its sleepy and restful ambience is home to a surprisingly good choice of shops, amenities and not to mention several delicious restaurants, serving seafood caught from the mighty Atlantic earlier that day and boasting views of the surrounding countryside that are almost as impressive as the views from Quinta dos Tomilhos itself!
Although with a villa this high-quality and grand, it would be easy to devote one's time entirely to this magnificent country home and its surroundings.
Boasting such an impressive design it is no surprise to learn that the design inspiration for Quinta dos Tomilhos came the stately manor houses of the Portuguese aristocracy, encapsulated poignantly by the cobblestone driveway, a huge walled courtyard and immaculately landscaped gardens.
On the inside Quinta dos Tomilhos could be considered to be nothing short of an architectural marvel. Huge stone archways and ample doorways lead guests from room to room; rooms that are adorned with many tasteful ornaments and antiques yet at the same time are enhanced by practical and modern amenities to make one's stay at this luxury villa on the Algarve as comfortable as possible.
The kitchen, whilst aesthetically delicious to the eye is equipped with appliances that even Gordon Ramsey couldn't turn his nose up at, including a huge American-style fridge/freezer, long marble worktops, a large oven and a 200-year old pine table that is so huge that 12 guests could comfortably sit round it!
The living room is equally as delectable; with a flat screen TV just crying out to be viewed from any of the ultra-comfortable sofas and chairs. Each of the villa's five bedrooms is en-suite and also combine tasteful traditionalism with tad of the refreshingly modern.
As its interior, Quinta dos Tomilhos's exterior really is a site for sore eyes. Asides its stately and impressive pool with a large surrounding terrace, the gardens of this villa provide the perfect setting to get lost in, with banks of shrubs, bougainvillea and immaculately manicured lawns generating excitement and inspiration for each family member.
Panning out further to beyond the villa's borders, acres of wild thyme spawn for miles, hence the inspiration for the property's name, which actually translates to the 'Estate of Thyme'.