09 May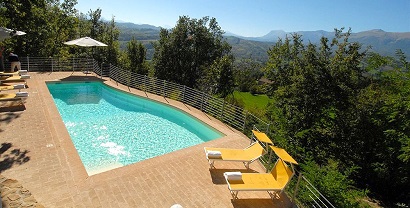 Vintage Travel is delighted to announce the arrival of Casa della Maddalena to our Le Marche portfolio of top quality villas all with private pools. This immaculately-restored country home makes the most of its rural setting. Views span out from the lush nearby valley, across the Sibilline Hills and out towards the idyllic rural landscape that makes up central Italy.
Up to six guests can sleep in absolute comfort in Casa della Maddelena's three bedrooms. A children's room with bunk beds makes Casa della Maddalena a great choice for families. This fine country house has been recently restored in a stylish way that tastefully clings to traditional features of its 19th century roots.
An open-plan living and dining room emphasises the villa's uncluttered and spacious interior. Guests can really spread out and relax in Casa della Maddalena and take advantage of WiFi, its enviable location, the terraced gardens and an incredible private pool.
As grand and stylish as Casa della Maddalena might be on the interior, it is equally as desirable outside. A huge swimming pool is the obvious focal point for guests to gather, relax and have fun. Though the house's beautiful terraced gardens, barbecue area and dining terrace also beckon guests.
With the hilltop village of Gualdo just 4 kilometres from Casa della Maddalena, groceries and other amenities can be purchased conveniently. Being famed for its hilly, verdure and undiscovered landscapes, the countryside surrounding Casa della Maddalena is crying out to be explored. Taking a lazy stroll down a rural track through fields and along the valleys under the azure and cloudless skies is a privilege that is there for the taking in this stunning region of central Italy.
For families wanting a day on the beach and guests yearning to breath in some salty sea air, the Adriatic Sea and its fabulous sandy beaches are just an hour's drive away.
If discovering medieval Italian architecture is a high priority on your holiday itinerary, then you simply must make visiting the town of Ascoli Piceno part of your agenda.
This beguiling town in southern Le Marche has been cited as being "a place you can see in a day yet never forget." Asides a main square that has to be one of the most elegant and splendid squares in the whole of Italy, Ascoli Piceno has many historical and architectural-inspiring sites that manage to captivate even the most culturally-blasé of tourists.
Luckily for those staying at Casa della Maddelena, Ascoli Piceno is only 65 kilometres away.
You can stay at Casa della Maddelena from May until September. For more information, prices, availability and booking to stay in this fine country home in the heart of Italy click HERE.