12 May
Argostoli is the capital town of the picturesque island of Kefalonia, one of Greece's beautiful Ionian islands. This area is an attractive seaside resort, having been mostly rebuilt following an earthquake in 1953 that actually raised the whole island some 60 centimetres in less than half a minute! The town was reformed to be in-keeping with the neoclassical style of its former architecture. Argostoli nestles around a sheltered bay, known as 'Koutavos Lagoon.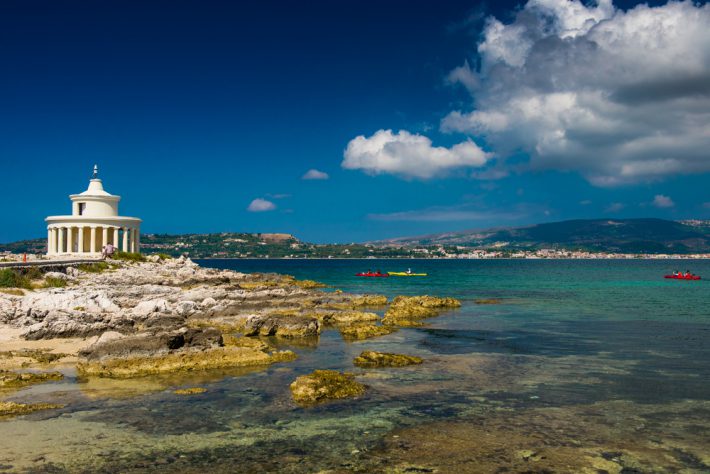 On Saturdays the harbour hosts a bustling market. The waterfront is a long promenade along Ioannou Metaxou Street, very pleasant for an evening stroll, or a walk to the pine shaded beaches to the North of the town. The lagoon is now a protected bird sanctuary. Plenty of boats bob up and down in this pretty harbour and you may be lucky to see some caretta-caretta turtles that feed on scraps from the fishing boats.
The main pedestrian street in Argostoli is named the 'Lithostroto, and is lined with bars, shops, restaurants and coffee houses. Platia Valianou is Argostoli's main town square and is also home to a good selection of places to eat, shop, sit and watch the world go by.
You can visit Korgialenios Library, which is amongst one of the largest in the whole of Greece. It has an impressive display of Bizanthyne icons. For the culture vultures of your party, there are also two museums, one devoted to the island's history, including occupation by the British Empire, and the other an archaeological museum with objects from the Mycenaean period.
Argostoli also benefits from being close to several good beaches, including Makri Yialos and Plati Yialos. From this characterful town, you can also take a boat trip to Lixouri, just a 20-minute trip across the bay, and well worth a visit.