What makes Girona's architecture so special? 
The atmospheric, riverside city of Girona in North East Spain is a city where the past and present in architectural forms sit harmoniously side by side. Unlike many cities which have managed to jumble up classic buildings with less appealing new efforts, Girona has always relied on architects and artists who have an affinity with the city.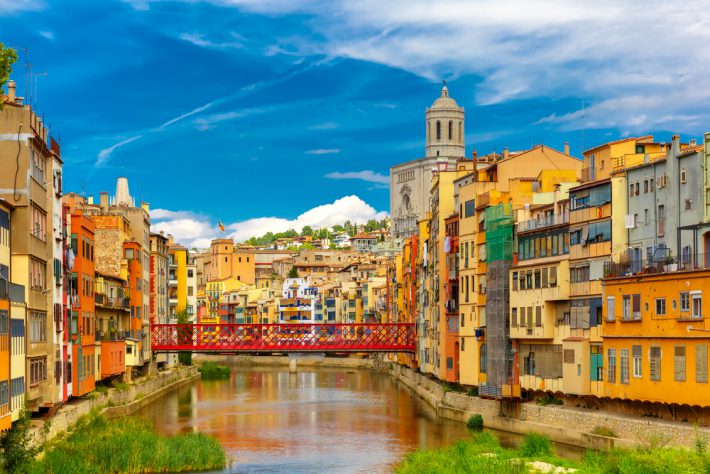 The Old
Being only a hundred kilometres from Barcelona, Girona has certainly been influenced by its capital city's classic architecture. Wandering through the ancient quarter you will come across the neoclassical Placa de la Independencia, which is surrounded by wonderful porticoed arches. It is a great place to sit with a cold beer and people watch.
When it's time to move on, take a visit to the Eiffel Bridge, built in 1877 by the same Frenchman who not long after went to Paris and built a certain world famous tower!
The Basilica de Sant Feliu is a masterpiece of Gothic nave, Baroque façade and classical pillars. Its bell tower stands out on the city skyline. The colourful painted houses that line the river have been decorated according to a very specific pallet of colours set down by Girona's artistic community. It is also where Raphael Maso, one of the city's most celebrated architects was born.
Girona Gothic Cathedral, with its 91 stone steps leading up to the front, is probably the highlight of the city's early architecture. It dates back to the 15th century and at 23 meters in width, has one of the widest naves in Europe, an incredible feat of engineering considering when it was built.
The Monastery of Sant Pere de Galligants with impressive 12th century cloisters, is well worth a visit, it also houses an archaeological museum.
Last but not least, are the reconstructed Arab Baths that date back to 1194, another architectural wonder of this incredible Spanish city.
The Modern
The architecture of Modernism and Noucentism has a strong influence on Girona, representing the growth and transformation from the beginning of the 20th century.
Scores of apartments and office blocks by numerous architects have managed to blend modern ideas with tradition, and very few of them feel out of place. In many cases, it is hard to tell which period they were built.
Much of the pleasure of being in Girona is strolling around the neighbourhoods, admiring the brilliant inventiveness of its architecture.