10 Nov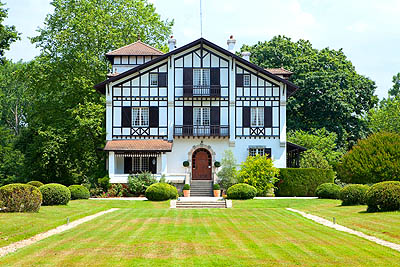 Gorgeous, stunning, exquisite, exclusive, inspirational…. The list could go on and on of words to describe the Manoir Atlantique, a 19th century Basque-style mansion, designed to cause jaws to drop in admiration and wonderment.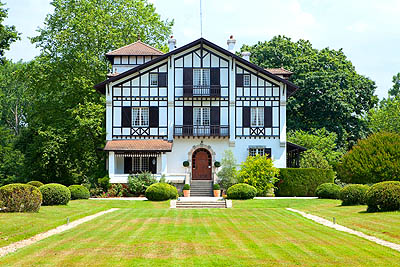 With a name like 'Manoir Atlantique', one can only excitedly muse that this property is magnificently impressive and someway related with the Atlantic Ocean. Such optimistically grand speculations are not only fulfilled but even surpassed for those fortunate enough to have visited Manoir Atlantique.
Situated to the north of the glam and the glitz of stylish Biarritz, and just 10 minutes from the south west of France's attractive beaches, with the blustery Atlantic Ocean thrashing across the shores, lies this flawlessly restored, lavish villa, still traditionally French but with a contemporary weave woven throughout.
The house is equally as stunning on the inside as it is on the outside. All nine of the invitingly spacious bedrooms have a television, DVD and en-suite facilities, some with a Jacuzzi or sauna. Most bedrooms boast a four poster bed and private balcony overlooking the manor's immaculate gardens and woodlands. On the ground floor there is kitchen with all modern appliances, which has access to the grand living room. A billiard room, TV room and dining room with access to a dining terrace, a marble fireplace, oak stairway and original parquet floors, enhance the manor's lavishly opulent interior.
Once you have finally managed to absorb the impeccable quality, elegance and unique character of Manoir Atlantique's interior, a walk through its six acres of grounds and woods is an equally delightful experience.  These extensive grounds include unblemished lawns, a tennis court, table tennis, badminton, boules, croquet, dining terraces, a barbeque area, a summer outside kitchen and a fenced off heated swimming pool with a separate shower room with a hot tub. For those wanting to explore the beautiful countryside that surrounds Manoir Atlantique, including the lakeside town Soustons and investigate the protruding and exciting Cote d'Argent coastline, mountain bikes are available for guests.
Manoir Atlantique offers a unique catering experience by applying a catered chalet in a ski resort principle to a summer vacation property. From May 28 – September 24, Vintage Travel offers the property on a solely Catered Basis. This includes a week's stay with breakfast, afternoon tea and dinner. In-keeping with the manor's commitment to high quality and taste, and French cuisine in general, the food and wine served at Manoir Atlantique is of the highest-quality and can rival the even most reputable of French chefs.
Naturally Vintage Travel is extremely delighted and honoured to have such a unique and refined property on our books, and we can guarantee visitors to Manoir Atlantique will be share our excitement.