Meandering through the mighty Monti Sibillini National Park in Eastern Italy
The Monti Sibillini National Park straddles the Umbria and Le Marche border in Eastern Italy. From the winter when its peaks are dusted in snow, to the spring when its fields are strewn in poppies and sunflowers, there's never a best time to visit this place of immense natural beauty.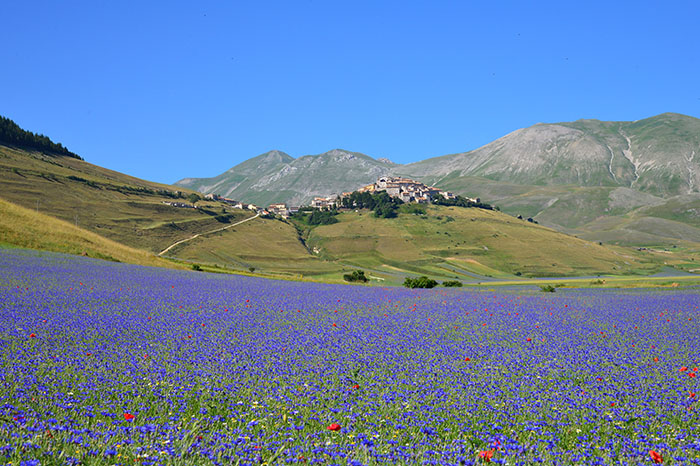 Described by The Guardian as "among the most beautiful place in Italy," this vast national park is encircled by medieval villages, which fail to pull in the tourist crowds other parts of Italy attracts, which undoubtedly adds to the tranquil charm of this mesmerising national park.
Though two more frequented features of Monti Sibillini are the Cave of Sybill and the Gola dell'Infernaccio (Hell's Gorge). Virgil famously described the cave with 100 openings as being home to the ancient legend – the Cumaean Sibyl.
The Hell's Gorge earned its name during the days when its steep-sided gorges and wild mountains were one of the few routes available through the Apennine mountains between Rome and the Adriatic coast. The route was famous for bandits waiting in hiding to ambush unexpecting tourists.
Wildlife thrives in Monti Sibillini, with chamois, wolves and brown bear roaming through the vast wilderness, whilst golden eagles fly overhead.
The best way to explore the park is on foot, by bike or on horseback. If you're really serious about discovering as much of this breath-takingly beautiful region, then you may want to complete the Il Grande Anello dei Sibillini – The Great Sibylline Ring – 120km of footpaths, which take nine days to walk and four or five days to complete on a mountain bike.
Of course, meandering round this scenic splendour is hungry work and certainly warrants calling into an eatery of some kind on your travels. The food served in the Monti Sibillini National Park's restaurants is delightfully rustic, with wild boar and lentils being a speciality dish.
If you want to discover unspoilt Italy that's a million miles from the busier tourist resorts, head to the mythical, magical Sibillini mountains, you might even catch sight of a rare golden eagle soaring overhead.