13 Oct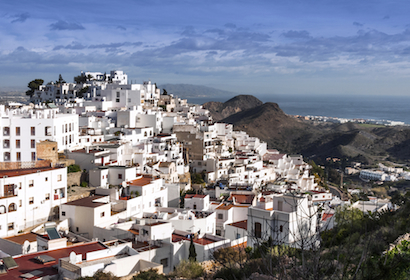 It is fairly safe to say, there aren't many destinations in southern Spain that comprise of stunning stretches of sun-drenched sand, atmospheric cafes and bars, top class restaurants and a white-washed old-town clung majestically to a hillside, that aren't teeming with tourists.
If you did make this proclamation, you'd be almost right, but not quite.
The town of Mojacar, on the Costa de Almeria in the south-eastern corner of Andalucia, would prove your assumption wrong.
When driving along Costa de Almeria, past the bustling port towns of Villaricus and Garrucha, an incredible sight soon dominates the vista – a whitewashed pueblo clung almost precariously to a hillside, looking serenely out towards the Mediterranean.
Welcome to Mojacar!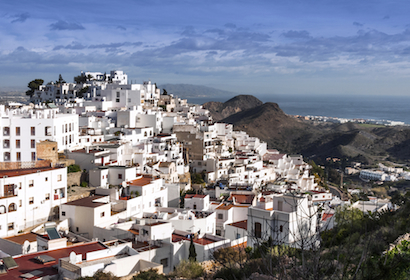 Mojacar comprises of two infinitely contrasting existences – the 'Playa', which consists of a string of pretty, sandy, well-facilitated beaches, and the Pueblo, an old town with cobbled twisting streets housing quirky bars, restaurants and boutiques round every corner.
One of the greatest things about Mojacar is that you get the 'two in one' ideal. The 'Playa' beckons for a memorable beach holiday, where swimming, sunbathing, banana boats and ice-cream are available and waiting.
Once you've had enough of the sand, sangria and squeals of delight from those riding the banana boats, the tranquil, timeless and bohemian world of Mojacar Pueblo awaits you.
Simply drive, catch the bus or walk a kilometre or so up a steep road from Mojacar Playa and you'll find yourself in an entirely different world altogether. This fascinating, white-washed town provides a taste of timeless Spain. A network of cobbled alleyways ascend and descend around the village.
'Alternative' boutiques selling quirky clothes, jewellery, pottery and gifts puts shoppers in paradise. As does lovers' of authentic Spanish cuisine, with tapas and Sangria being served in abundance in the pueblo's characterful bars and restaurants.
What's more, being relatively inconspicuous from the predominant tourist trail, both Mojacar Playa and the Pueblo never get bombarded with an overcrowded stream of visitors.
If you want to discover the best of both of Spain's irrefutably different worlds, designate a day on your Andalucian holiday to visit Mojacar.