30 Mar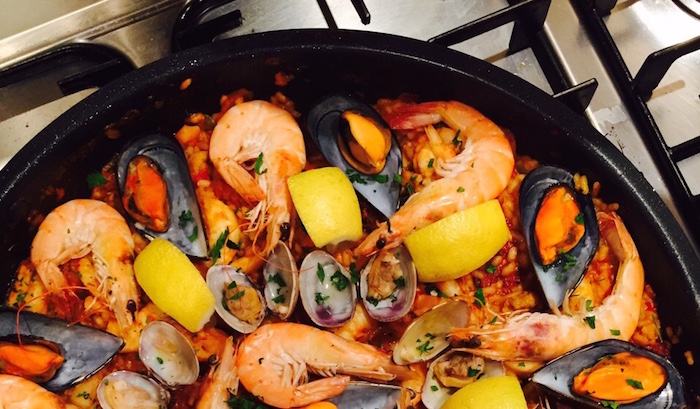 Is there anything more Spanish than an impromptu, al fresco paella lunch? You can make your own perfect paella quickly and easily, thanks to this sumptuous recipe from Annie B.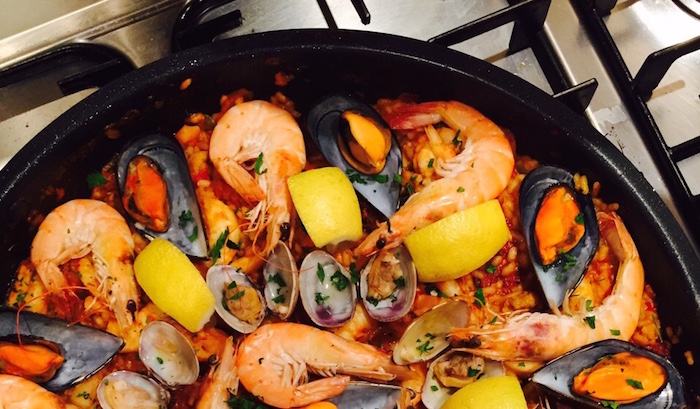 To serve 8
Ingredients
Olive Oil
1 x red pepper – finely chopped
2 x Onions – finely chopped
3 x small Italian Green Peppers- finely chopped
5 x large tomatoes, skinned, seeded & finely chopped
750gms chicken thigh – chopped
1 x chorizo, sliced
1.5 kilos raw, peeled Prawns (using shells for stock)
500grams of sliced squid
1 kilo  each Clams and Mussels
3 cups of rice
8.5 cups hot water simmered with 1 bay leaf & prawn shells for stock + clam water
½ cup of Fino or Amontillado Sherry
1 pinch saffron soaked in warm water
1 tsp of Smoked Paprika
Method
Cook the mussels in boiling water until they open. Drain, pick and keep some open on shell for garnish. Repeat with the clams but reserving clam cooking liquid.
Fry the chorizo, remove and then the chicken in the oil. Remove and keep to one side.
Add chopped red pepper, stirring occasionally for 5 minutes. Add chopped onion and cook for 5 mins. Add chopped green pepper. Do not stir continuously as these vegetables need to brown. Add peeled, chopped and de-seeded tomato, along with the squid if using and 1 x teaspoon of salt. Bubble for 15-20 mins, stirring occasionally, until the tomato takes on the appearance of puree. Add the rice. Stir. Add liquid, Sherry, saffron and smoked Paprika.
Bring to the boil and turn to simmer for 10 mins. Add prawns and push under the rice. Add the chicken. Added chorizo, shelled clams & mussels
Switch heat off and cover with newspaper or lid. Leave to rest for 10 mins.
Serve with lemon wedges, mussels in shell and some extra prawns as garnish.
Find out more about Annie B's Spanish Kitchen here