30 Jan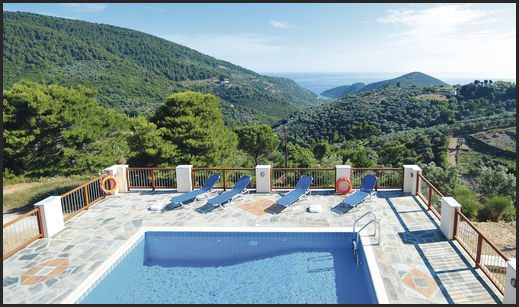 Ouranos is an impressive two-bedroom, two-bathroom villa, situated amid verdant woodland in an elevated position on the beautiful Greek island of Skopelos.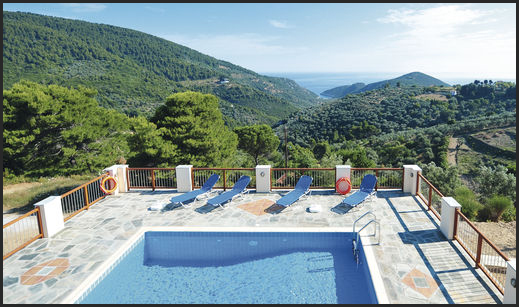 This stone-clad property offers breath-taking panoramic views across the valley to the beach of Glysteri and stretching across to the distant sea.
Ouranos has been recently refurbished to an exceptionally high standard. The natural features throughout the property including exposed stonework, an ornamental fireplace and a handcrafted wood-beamed ceiling, blend seamlessly with the incredible natural countryside that surrounds this Skopelos home.
Ouranos comprises of two separate, self-contained buildings with a small entrance courtyard between them. With a split-level living area on the ground floor and a studio with a separate open plan living room and balcony, a kitchenette, twin beds and shower room, the property provides a great choice of accommodation for a party of four requiring a degree of privacy.
On the exterior, Ouranos really makes the most of its stunning views. A large covered dining area with a barbecue means guests can wine and dine in the fresh Skopelos air, while lapping up the stunning scenery.
The property's private pool is fringed by a large sun terrace, where guests can spread out, relax and enjoy the peace and tranquillity Ouranos is blessed with.
Ouranos is just three kilometres from Skopelos Town and a handful of beaches; Glysteri is the closest, a keyhole-shaped pebble bay. This pretty, little bay is hailed as boasting water that's significantly less salty than most sea water, due to the springs that lie in abundance under the water. With bustling tavernas, characterful bars and plenty of shops selling locally-grown produce, Skopelos Town has everything you'll need to experience authentic Greek living.
As The Telegraph wrote in a feature titled 'Is Skopelos the Perfect Greek Island?':
"Far from becoming home to themed bars and overcrowded beaches, Skopelos has maintained a refreshing authenticity. For many visitors, it epitomises the appeal of Greece as a holiday destination – unspoilt island life; unpretentious food and accommodation; quiet beaches; walks through green, mountainous interior; and a complete removal from the stresses of modern life." 
For more information about the stunning villa Ouranos, to view photos and to check availability, take a look at the property on the Vintage Travel website.