07 Apr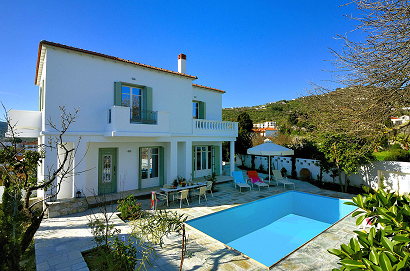 Located just a short walk from the UNESCO world heritage of Skopelos Town, the white-washed villa known as Prasina Vista boasts a prime spot one of Greece's most stunning islands.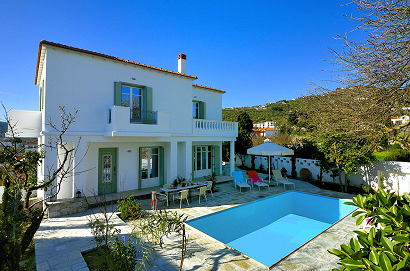 As well as being a stone's throw from the architectural and cultural delights of Skopelos Town, Prasina Vista is close to a beach and a taverna, meaning swimming, sunbathing and experiencing delicious local cuisine is all attainable on foot.
Skopelos Town has a rich architectural heritage. With intricate cobbled alleyways and picture postcard white-washed houses, you could spend a whole day exploring and photographing this historic old town. Having said this, you wouldn't want to miss the opportunity to discover more of Skopelos. This green and mountainous island is shaped somewhat like a saxophone. Skopelos was the main shooting location for the 2008 blockbuster film "Mama Mia", starring Meryl Streep and Pierce Brosnen. With its carpet of green trees, spectacular mountains soaring high above and coastline cliffs plunging directly into the inviting Aegean Sea, it is quite easy to fall in love with one of the greenest and scenic of the Aegean islands.
As its name suggests, Prasina Vista sports great views of the rooftops of other villas on the periphery of Skopelos Town and the lovely countryside beyond. The villa in Skopelos town's interior does its scenic exterior the justice it warrants. The kitchen/dining room is a light and airy open-plan area with a huge white pillar, open fire place and open stairway. "Open" is the operative word in Prisina Vista as you find yourself in a world of light and space. They say that Greek natural light is the best in the world and in this villa you could believe them. Convenient patio doors lead out into the poolside terrace and garden, landscaped tastefully with natural stone.
Prasina Vista can sleep up to six people in three light, cool and elegant bedrooms. One double bedroom is downstairs whilst the other two are on the first floor. All three have en-suite facilities and direct access to a balcony or terrace. Amazingly the villa has five bathrooms. There is a further roof terrace with great views for that early morning coffee or night cap. Out side there is a small yet pretty pool surrounded by an array of interesting flowers, trees and shrubs. A built-in barbecue makes outside dining a must in this superb family villa.
Apart from the delights of Skopelos Town the nearby beaches at Glysteri and Glifoneri provide all you need for a great day at the beach. Cliffs dominate the coastline but there are plenty of hidden coves with beaches waiting to be discovered. Down at the harbour in Skopelos Town you can enjoy fresh fish in any number of quayside tavernas. Life is laid back and unhurried here, just as it should be on holiday.
For photographs, more information and to check availability and to book Prasina Vista, click HERE.