17 Jan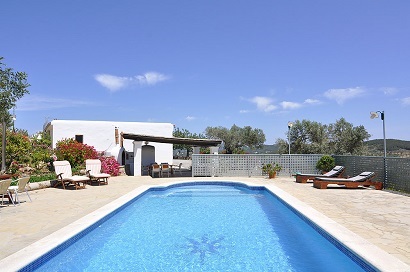 The beautiful country home of Lluc d' Alt is tucked away in the north-western corner of Ibiza, not far from the secluded town of San Miguel.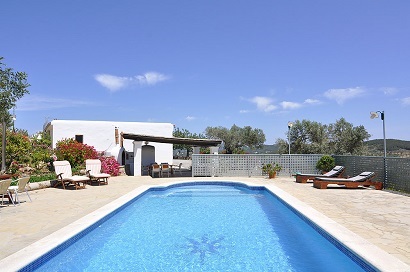 This elegant seaside village has a backdrop of pine-clad cliffs and could not be further apart from the foam parties and 24 hour partying many parts of island are renowned for. The house is a single story Spanish 'Finca', which has been tastefully renovated to keep pace with the needs of the modern world.
The views of the surrounding countryside are a privilege to behold with an agricultural landscape of almond and olive trees covering the rolling hills and valleys. A landscape artist would be completely at home here with the easel set up on the poolside terrace as the distant scene is transformed to canvas.
Lluc d'Alt sleeps six people in two doubles and a twin bedroom. All three bedrooms are air-conditioned, bringing much-needed comfort in the summer season.
The two large bathrooms retain several old features such as the old traditional Spanish wash basin stand. The emphasis of preserving the traditionalism of the house is weaved throughout the whole of the property. Exquisite antique wooden pieces are sporadically placed in the rooms, a clever means to connect the modern version of the finca with its history and roots.
Real stone walls next to impeccable white, modern plastering create an interesting design characteristic in the uniquely  laid out rooms, all of which possess their own quirky features. An arched entrance, homely wood burning stove, chunky wooden doors, robust timber furniture, wooden shutters and beamed ceilings work in harmony to create a natural countryside vibe.
The well-equipped kitchen pools timber cupboards with granite surfaces, a popular design trait that never fails to craft an aura of sophistication and practicality in a kitchen.
Lluc d'Alt's exterior is as marvellous as its interior with the natural world and the proficiencies of the Ibizan farmers visible at every angle. Beauteous flowers surround the house casting splashes of vibrant colour and sweet scents hanging on the wind. The sapphire swimming pool is surrounded by a  fantastic  sunbathing terrace encircled by picture postcard views. With an encompassing barbecue the outdoor dining area  provides all you'll need to spend nights of laughter, fine wine and good food under the clear Ibizan night skies.
The elegant town of San Miguel is only 7 km away, where you'll find two child-friendly beaches plus several great restaurants and bars. The well-known beach of Benirras is also close by, which, being famous for its sunsets, has long attracted artists and romance-seekers in equal doses. This bohemian beach is also a favourite spot for musicians with drummers regularly showing up to give impromptu free concerts with their Djembi drums.
If you want to explore authentic Ibiza that has long been a favourite for artists and those searching to discover Ibiza's quieter side that's void of concrete and crass, then the elegant town of San Miguel and the beautiful country home of Lluc d'Alt may just be the places you're looking for to fulfil your dream Ibizan holiday.
For more information and photos of lluc d'Alt, click HERE.