24 Jun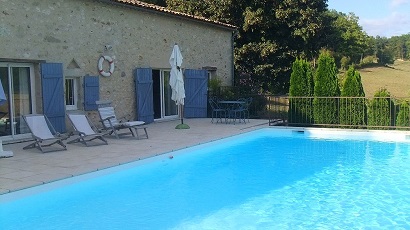 Surrounded by rolling green hills and healthy forests, Le Clos de Redon in south west France is the perfect country house for those looking to escape to peace and tranquillity. This four bedroom house is set within the most idyllic of French countryside and is in striking distance to some of the most beautiful villages in France.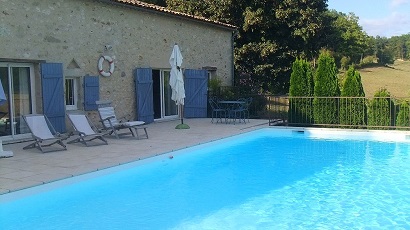 Starting its life as a simple French barn, part of this private villa in South West France's charm is the fact it boasts many original features. Traditional stone walls are evident throughout the house, which help keep the interior cool in the summer. The shuttered windows and doorways epitomise a French countryside style and fit in beautifully with the traditional old houses of the region. Le Clos de Redon is comforting in its simple old farmhouse style but all the modern world necessities can be found inside.
The kitchen is well-equipped with modern appliances yet is tastefully softened with pretty ornamental touches. With terracotta tiles, chunky wooden beams and a hearty farmhouse table, the rustic vibe is carried through to the living and dining room.
Le Clos de Redon's four bedrooms are as tastefully decorated in subtle pastel tones. This conveniently laid-out house can sleep up to eight guests in comfort. Guests sleeping in one of the double bedrooms will have the pleasure of direct access to the swimming pool terrace via patio doors.
The views outside put a five star stamp on this fine house. Distant grey stone farmhouses and every shade of green imaginable are mixed with blue sky, white clouds and of course a burning golden sun. The swimming pool completes the stunning landscape of this seemingly never-ending wilderness. Mature shrubs and fragrant citrus trees slope away from the enclosed pool, augmenting the quintessential rural French bliss the whole of Le Clos de Roden affords.
You really do have the best of French village life on your doorstep at Le Clos de Redon. The 20 kilometre drive to the Bastide de Montpazier is worth every drop of fuel. Montpazier is the finest example of a Bastide and has remained unchanged for 700 years.  King Edward I of England founded the town in 1284 which has remained one of the most beautiful places to visit in the whole of south west France. Golf enthusiasts will be pleased to learn an 18-home golf course awaits at Castelnaud-de-Gratecambe, just ten kilometres from the house.
It's safe to say life is 'tres belle' at Le Clos de Redon.
For more information, photos and availability, click HERE.