27 May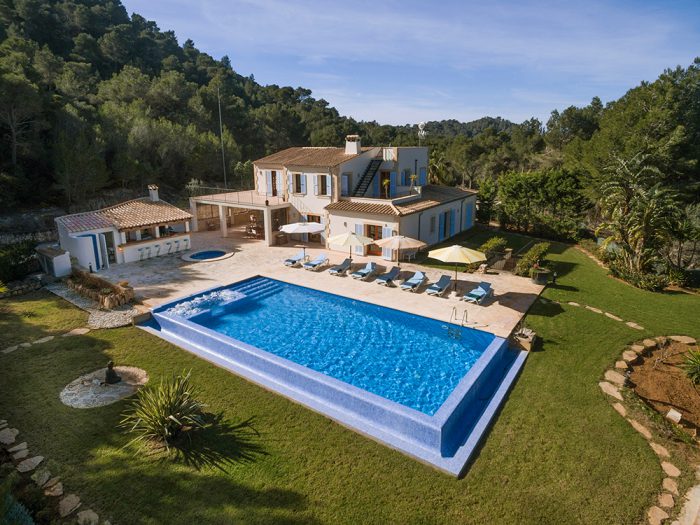 Puig d'Es Mila is a beautiful country villa that's nestled amongst the emerald hills that slope below the San Salvador monastery near the bustling town of Felanitx on Mallorca. This sprawling and characterful rural abode has five bedrooms, six bathrooms and can sleep up to ten guests in comfort.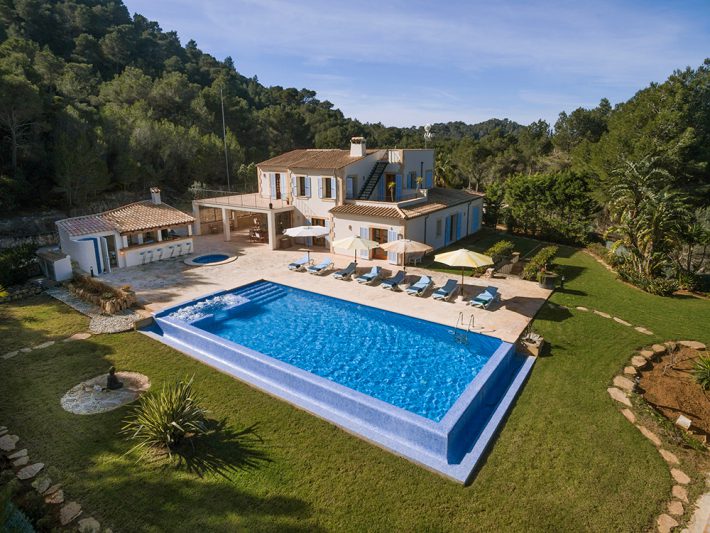 Puig d'Es Mila boasts an impressive seven and a half acres of fertile foliage and opaque woodland, ensuring this stunning property enjoys privacy. Set within Puig d'Es Mila's beautifully-maintained gardens, is a large private pool with two infinity edges and a Jacuzzi section, the perfect spot to relax and soak up the many scenic delights that surround this imposing country villa. And so that the little ones don't feel left out, the pool is accompanied with a circular children's pool.
Whether you crave shade or sunshine, Puig d'Es Mila's exterior has it all, with a large covered dining terrace, a spacious sun terrace and a kitchen/barbecue house with its own bar counter!
Step inside this impressive villa and you'll be faced with an impeccably designed interior. Puig d'Es Mila's owner Vanessa, has furnished the home to an extremely high standard, with crisp furnishings and fittings and cool terracotta tiles underfoot, giving the villa the feeling of contemporary comfort combined with authentic Mallorca charm.
All five of Puig d'Es Mila's bedrooms have their own bath/shower rooms, providing privacy for parties staying in this beautiful country home.
Situated in the south-eastern corner of Mallorca, Puig d'Es Mila is in close proximity to a myriad of Mallorca delights. There are several great beaches to choose from in this area, including Cala Su Nau, Cala Mondrago and Cala Llombards, which are fabulous beaches to visit with children.
For those seeking an active holiday, Puig d'Es is perfectly positioned to enjoy a wealth of activities. Besides swimming in the many glorious beaches the area is home to, there are tennis courts at Cala d'Or, which is just 12.5 kilometres from the house and a golf course at Val d'Or, as well as scuba diving, fishing trips and boat hire at Porto Petra, which is just 15 kilometres from the incredible villa of Puig d'Es.
For more information, to view photos and to check availability at Puig d'Es, visit the villa's official webpage here.