Secluded villa in Tamariu – El Jardi Bonic
The tremendously unfair tendency to view Spain's Costa Brava as being synonymous with sky-high buildings, English pubs and fry-ups, could not be further from the truth.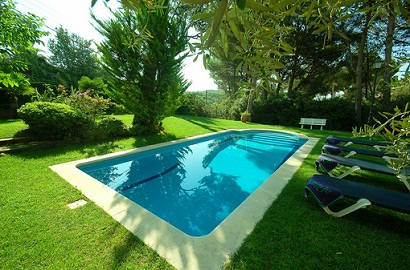 Take for example the village of Tamariu, an extraordinarily quaint, picturesque and tranquil seaside village that has remained virtually unchanged for centuries.
Tamariu is just one village that is typical of this astonishingly pictorial stretch of coastline on the Costa Brava, and along with neighbouring Llafrac, Calella de Palafrugell and Palafrugell, this region of Catalonia can truly be described as being 'heaven on Earth'.
A vision of emerald green dominates the landscape here, contrasting vividly to the azure waters of the translucent Med and of course the sky above, which for the majority of the year, is practically cloudless.
The region of Catalonia oozes prosperity, affluence and style, yet at the same time retains a unique traditionalism, simplicity and calm.
If you are looking for somewhere to stay on this exceptionally beautiful part of Catalonia, Vintage Travel recommends El Jardi Bonic, which really does the area it inhabits the justice it deserves.
This extremely pretty villa in Tamariu has three bedrooms; two bathrooms and can sleep up to six guests. Being comfortable, light, airy and welcoming at the highest level, it takes some will power to leave El Jardi Bonic and enter the outside world, but when one does, they are in for a memorable treat!
The verdurous vistas this region is renowned for spills into this property's grounds where olive trees, pine trees, tamarind and bougainvillea surround a spacious lawn that extends beyond a delightful private swimming pool with Roman steps.
With so many trees surrounding the pool, shade from the hot Spanish sun at El Jardi Bonic is rarely a problem, although with that midday sun soaring well overhead, perhaps taking a cold refreshment on the dining terrace wouldn't go astray!
With views of the pine-clad slopes leading down to Tamariu's seafront promenade where delicious wafts of today's catch of the day cooking in the seafront restaurant rise into the air, one can rarely resist making their way to Tamariu's sheltered cove – Yes a stay at El Jardi Bonic can only be described as being 'heaven on Earth'.
For photos, availability, pricing and more information on the El Jardi Bonic villa in Tamariu, just click the link.