12 Feb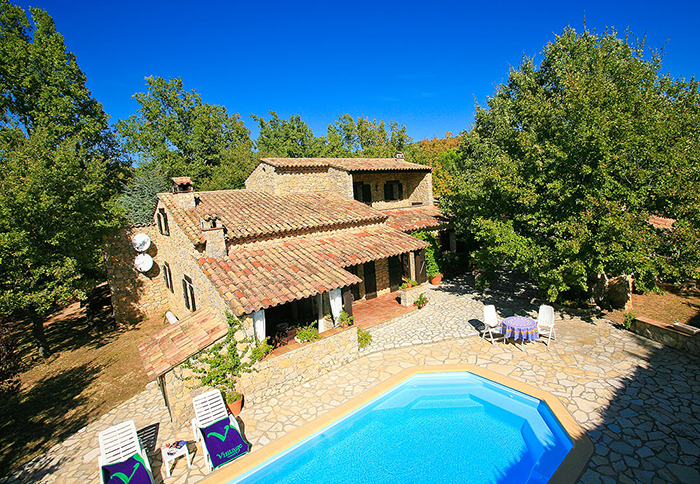 Sous le Chêne is a delightful stone cottage nestled on the edge of the pretty village of St Cezaire in Provence. Sous le Chêne is brimming with the bucolic character a cottage in the heart of rural Provence is synonymous with. Boasting four bedrooms and two bathrooms, Sous le Chêne comfortably sleeps eight guests.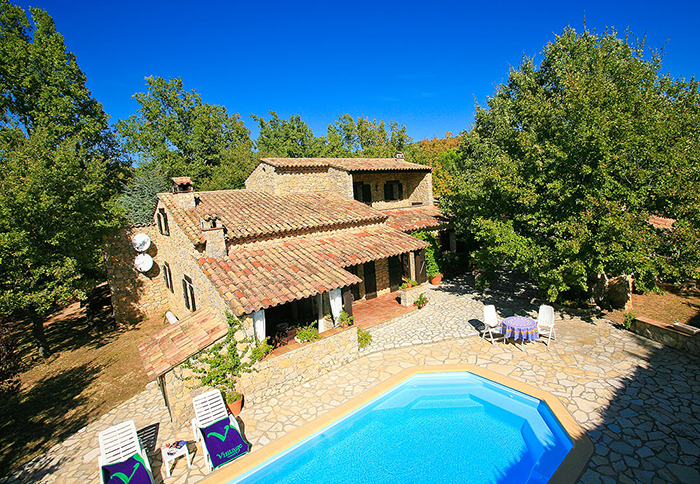 Stonework on both the exterior and interior of the cottage sets the tone for the rest of the property, including chunky wooden beams overhead, traditional rustic tiles underfoot and in between, a plethora of traditional furnishings and country fittings. In fact features such as an old grandfather clock and a bench-style dining table craft a truly homely vibe throughout the whole of this cosy Provincial cottage.
Outside, the quirky character of Sous le Chêne is continued with pretty landscaped grounds augmenting its attractiveness. Guests can walk from the living room straight onto a large covered terrace, brimming with elegant ceramic pots flourishing with colourful flowers.
A stone-built summer kitchen with a built-in barbecue provides the perfect spot to relax with a meal, drink or book whist enjoying the dense bucolic bliss that surrounds this idyllic country cottage.
A private pool to the front of the terrace invites guests to take a dip and freshen up under the glorious sunshine this part of France is often blessed with.
Though as delightful as this quintessential Provincial cottage might be, a world of activity and discovery awaits guests staying at Sous le Chêne. Horse riders will be at home as there are stables just a short stroll from the cottage, as will tennis enthusiasts who can enjoy a game in the nearby town of Cezaire-sur-Siagne.
In fact the ancient fortified town of Cezaire-sur-Siagne is a mere 1.2 kilometres from Sous le Chêne. Sat high on a mountain ledge overlooking the Siagne River and the densely forested valley below, this characterful town certainly sports an enviable setting. It also comprises of a good selection of bars, restaurants and shops, meaning guests at Sous le Chêne have everything they need virtually on their doorstep.
The famous town of Grasse is slightly further afield, 15 kilometres from Sous le Chêne. Considered to be the 'perfume capital of the world', a reputation nurtured by the abundance of water from the hills that surround the town, Grasse is certainly a memorable place to visit. As are the glamorous towns and cities of the Cote d'Azur, such as Cannes, St. Tropez and Nice.
At Sous le Chêne you are perfectly positioned to discover the many unique delights this part of southern France has to offer.
To find out more information regarding Sous le Chêne, including pricing details and photos, visit the property's official webpage.