17 Jul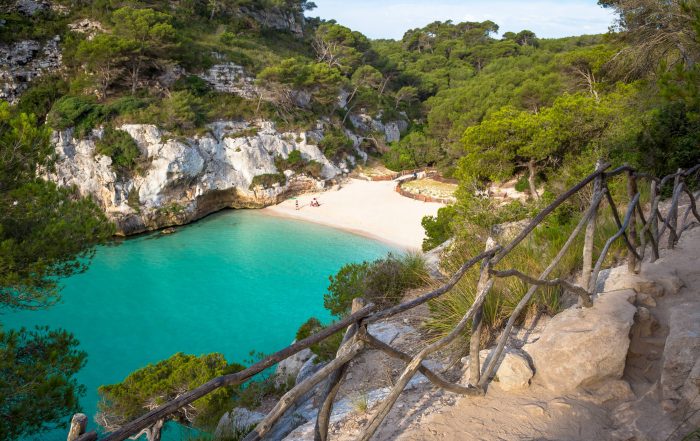 Menorca is blessed with many beautiful spots where you can lay down your towel for the day and enjoy relaxing in peace and quiet amid the prettiest of surroundings.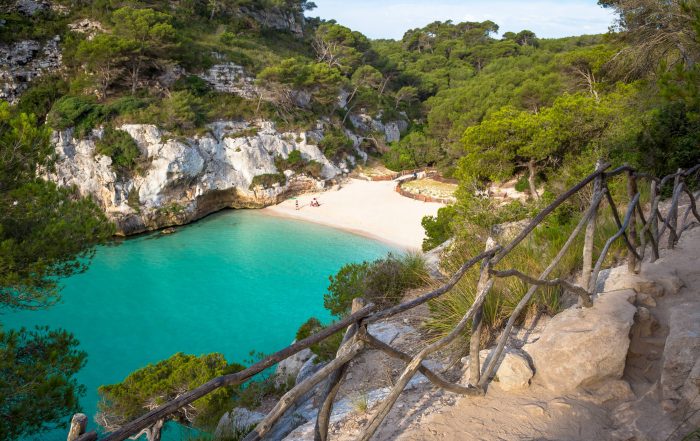 One such spot is Cala en Turqueta that lies on the south-western side of Menorca. This picturesque white sand beach is lapped by translucent and shallow water, making it perfect for families with young children.
This small cove is little more than 100 metres in length and is scattered in fine, white sand. In the middle of the beach lies a cluster of rocks, which divides the bay into two and gives it a distinct identity.
This unspoilt bay is accessed via a path through a fragrant-smelling pine wood that leads from a car park. The walk is approximately 10 – 15 minutes and is well worth the effort to reach the secluded bay of Cala en Turqueta.
Cala en Turqueta is located between two of Menorca's most popular towns, Cala'n Bosch to the west and Cala Galdana to the east.
Home to a string of quality restaurants, a great choice of shops, stunning beaches, a wonderful marina, sites of culture and exciting attractions like boat excursions and water sports, it's easy to understand why Cala'n Bosch remains a much-loved family holiday destination.
Cala Galdana to the east of Cala en Turqueta is described as one of the most beautiful locations on Menorca's south coast. This pretty town lies at the foot of the Algendar Gorge and is flanked by a dramatic landscape of high cliffs carpeted in aromatic pine trees.
The Algendar River separates the town, which comprises of tasteful roads, lined with quality bars, restaurants and shops. Cala Galadana is also home to a number of child-friendly activities including crazy golf, a waterpark and a children's play area, meaning there's something to do for all ages in this upmarket Menorcan town.