15 May
Straddling the Le Marche-Umbria border, the Parco Nazionale dei Monti Sibillini is a stunning area of rugged beauty. In winter, the peaks are decorated with snow, and in summer, its meadows are covered in wild flowers displays of poppies and cornflowers.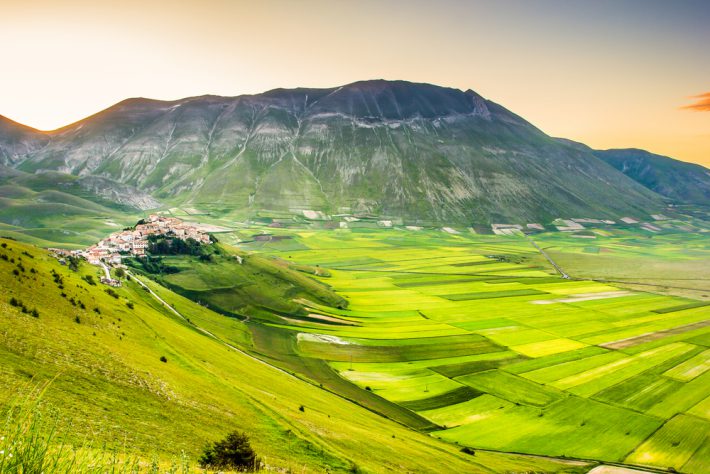 The park covers some 70,000-hectare of dramatic landscapes, with valleys carved long ago by glaciers, dense beech forests and mountains reaching above 2000 meters. The highest peak, Monte Vettore, rises 8132 feet above sea level, and the Gole Della Valnerina, gullies formed by erosion, are a dramatic counterpoint to the high vista around them.
Dotted in this historic landscape are hilltop settlements that have changed little with the passage of time. It is worth visiting Visso, with its picturesque historic centre. This Umbrian community is supposed to have been founded some 907 years before Rome was built.
Nearby is the Renaissance architecture of the Sanctuary of Macereto, located at a high altitude of 3,281 feet. The town of Norcia is also a centre of spirituality with the lovely Sant'Eutizio Abbey. Norcia is the focal point of Europe's Patron Saint Benedict. There is an incredible mountainous scenic loop you can drive around, which begins at the town of Norcia.
Trekking and mountain biking is popular in the Parco Nazionale dei Monti Sibillini. The routes are well signposted. There are also guided tours of the Park, some of them themed, such as Dello Zafferano, the ancient route used by saffron traders.
Rock-climbing is another popular pastime in this incredible Umbrian park, much of which takes place on Monte Bove. Hang-gliders and paragliders also take advantage of the unique landscape and thermal climate the park is home to.
With snow-draped mountains in the winter, skiing is possible in the Parco Nazionale dei Monti Sibillini. As is rafting and canyoneering around the rivers of the Forca Canapine. Following the River Nera brings you to the blue crystalline Lake Fiastra, which beautifully mirrors the surrounding mountain peaks that encircle the stunning waterfalls of the Valle dell'Acquasanta. The lake sits in one of the highest valleys of Monte Vettore, in a lunar landscape.
If you're looking for an exhilarating day out in Umbria amongst the most stunning of scenery, take a trip to the vast mountain park of Monti Sibillini.