27 Dec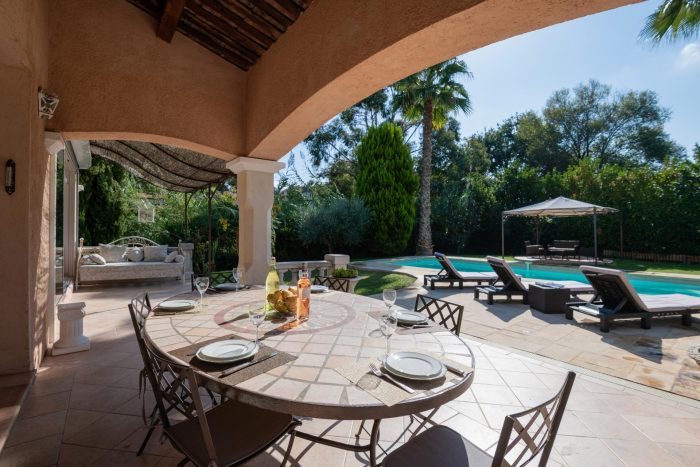 The lovely La Ferronneirie on the delectable Cote d'Azur, is now available to rent out during the peak weeks of July and August. This stunning three-bedroom, two-bathroom villa boasts a fabulous location that's just a 10 – 15-drive from the characterful town of Antibes.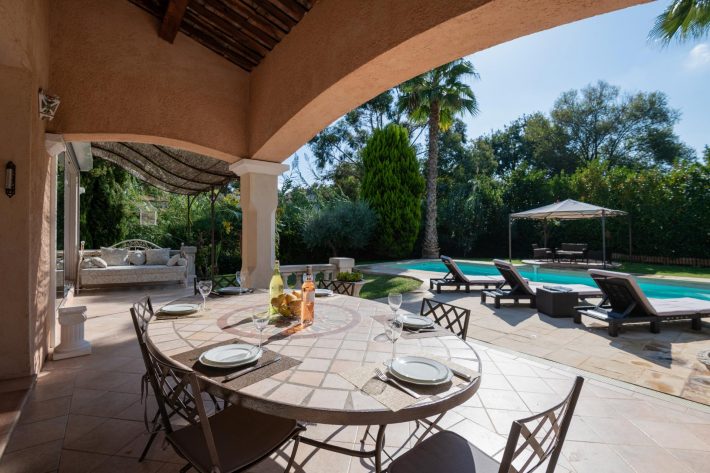 With secure gated grounds comprising of pretty, manicured gardens of lawns with palm and other trees providing shade, a fountain, covered dining terraces, shaded outdoor lounge, a sun terrace, shaded pergola, table tennis, a built-in barbecue, and, of course, a private swimming pool, it's safe to safe La Ferronneirie is geared towards enabling guests to spend the maximum time outside when staying at this fabulous holiday home.
This smartly presented, rose-coloured villa is located in a desirable residential area. A well-facilitated, contemporary style kitchen will be a central hub for any parties staying at La Ferronneirie and will certainly be a pleasure to use for the chef of the party.
Air-conditioned bedrooms, Wi-Fi and a baby gate on the first floor, makes La Ferronneirie a good choice of accommodation for families with young children.
The bustling and beautiful little town of Antibes between the chic and world-famed towns of Cannes and Nice, is just 4.5km from La Ferronneirie. This beguiling Riviera town is enclosed by 16th century ramparts, with their star-shaped Fort Carre. The Old Town overlooks an upmarket marina, where luxury yachts bob up and down in the turquoise water.
This stretch of coastline is well-known for its beautiful sandy beaches. Further exploration of the unique towns that the Cote d'Azur is made up of, are on your doorstep at La Ferronneirie, with Biot being just 5km away, Vallauris 8km and Mougins just 10km from the house.
For more information on staying at the stunning villa of La Ferronneirie and to view photos, visit the property's webpage here.