26 Jun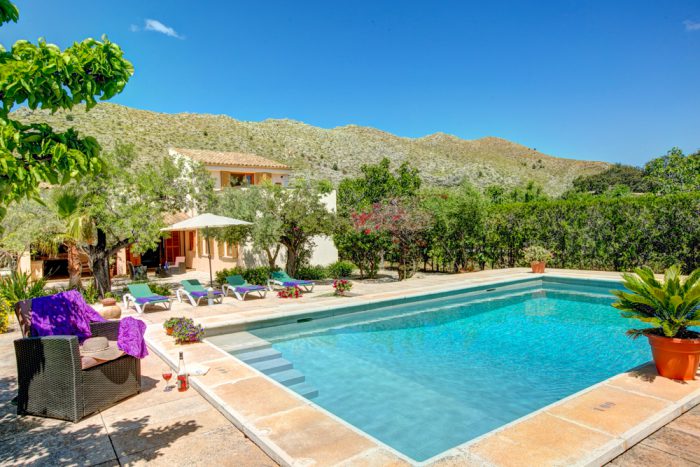 If you're looking for high quality, self-catering accommodation to sleep four guests in the north west of Mallorca, you may be interested in Ca Na Teresa. This stunning two-bedroom, two-bathroom villa is set back from the Pollenca-Puerto road, just several kilometres from the bustling Puerto Pollenca and its excellent restaurants and amenities.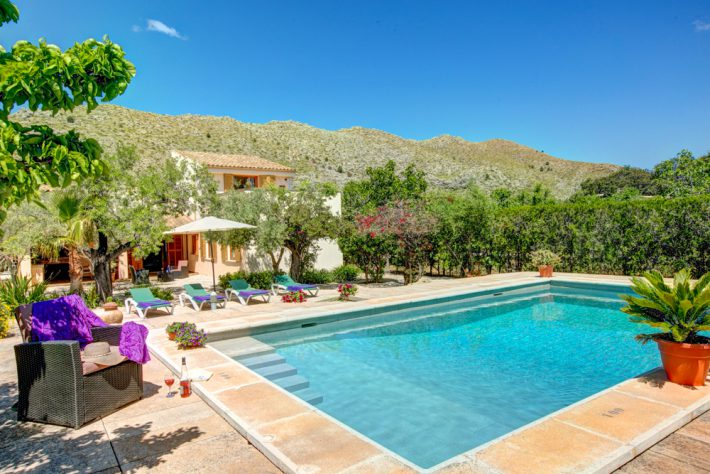 This stylish property is beautifully furnished and decorated to a high standard. Ca Na Teresa's well thought out sleeping arrangements, which includes a bedroom and bathroom on separate floors, makes it a perfect choice two couples holidaying together but wanting some degree of privacy.
The master bedroom on the first-floor benefits from an en-suite shower room and a private sun terrace, which boasts fabulous views of the garden and pool below and extend across the pretty countryside that surrounds Ca Na Teresa.
The spacious and airy dining/living room on the ground floor leads onto Ca Na Teresa's covered dining terrace and garden through large double doors.
This inviting villa has everything you'll need for a comfortable stay in one of the most desirable parts of Mallorca. Guests can enjoy access to Wi-Fi, air-conditioning, table tennis, TV and DVD, and a well-fitted kitchen.
Ca Na Teresa is also geared towards making the most of the enviable climate Mallorca enjoys for much of the year. A gently sloping lawn leads to the villa's private pool where guests can cool down, exercise and have fun splashing about.
Trees scattered over the property's garden provide some much-needed shade, as does Ca Na Teresa's large shaded terrace. Guests can enjoy cooking on the villa's built-in barbecue and then dining on the terrace, whilst taking in the tranquillity offered at Ca Na Teresa.
Another advantage of Ca Na Teresa is its location. Puerto Pollenca and its magnificent sandy beach, water sport facilities, quality restaurants and decent shops is just 3.4 kilometres from the villa. Here you'll be able to choose from a wide range of cuisine, from mouth-watering seafood to simple pastas and pizzas.
Six kilometres in the other direction will bring you to the town of Pollenca. This attractive rural town in north west Mallorca is tucked between two hills, each of which is topped with its own sacred site. Hailed as the "perfect Mallorcan town", Pollenca is an idyllic spot to become acquainted with traditional life on this mesmerising island.
If you would like to view photos, find out more information and check availability to stay at the fabulous Ca Na Teresa, visit the property's official webpage here.