12 Feb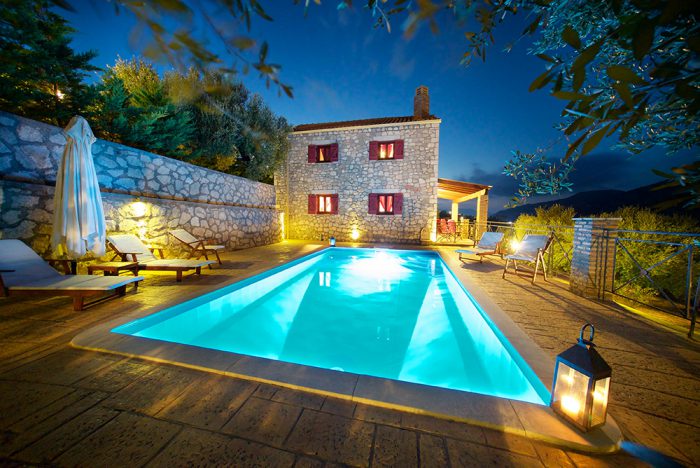 Alexandra is a stunning stone-built villa located in the heart of breath-takingly beautiful countryside on the island of Ithaca. Alexandra is one of only four villas to enjoy such an enviable elevated position boasting far-reaching views of the rolling, verdant hills and valleys that extend from the property as far as the eye can see.
This eye-catching villa has two bedrooms and two bathrooms, sleeping up to four guests. With a stone façade, the country home has been constructed so it blends in seamlessly with the delightful bucolic landscape that surrounds it. Pretty red shutters bring a tasteful contrast to the stone-cladded walls, which are also a dominant feature of the villa's interior.
Guests can take their pick from wining and dining and enjoying the magnificent vista that lies before them on two spacious terraces located at both ends of the villa. Alexandra's private pool is the ideal spot to cool down from the warm Greek sunshine and soak up the incredible scenery of endless olive groves, a jigsaw of nearby and distance hills and the cobalt waters of the Ionian Sea glistening in sunlight in the background.
Alexandra's interior is cool and inviting, stylishly infusing traditional rustic features, including wooden flooring, exposed stone walls and solid oak furniture, with a contemporary twist. Despite its rural position on this laidback Greek island, Alexandra is home to those essential mod-cons, including Wi-Fi, air conditioning, and a fully-equipped kitchen.
One stand-out feature of the villa's interior is an attractive galleried landing which overlooks the living area, the perfect place to read a book or enjoy a glass of wine!
This charming villa is within walking distance to the atmospheric village of Stavros, stood at the foot of the Neritos Hill. This elevated town, which overlooks Polis Bay, was founded in the 16th century. With a beautiful church and good amenities, Stavros is a delight to visit to become acquainted with authentic life on this enchanting island.  
A number of alluring coves and beaches doused in pebbles and fine white sand can be found along this stretch of coast to the north of Ithaca, which is cited as one of the most laidback and tranquil islands on the Ionian Sea.
If you would like to view photos, find out more and book to stay at the captivating rural villa of Alexandra, visit the property's webpage here.