26 Feb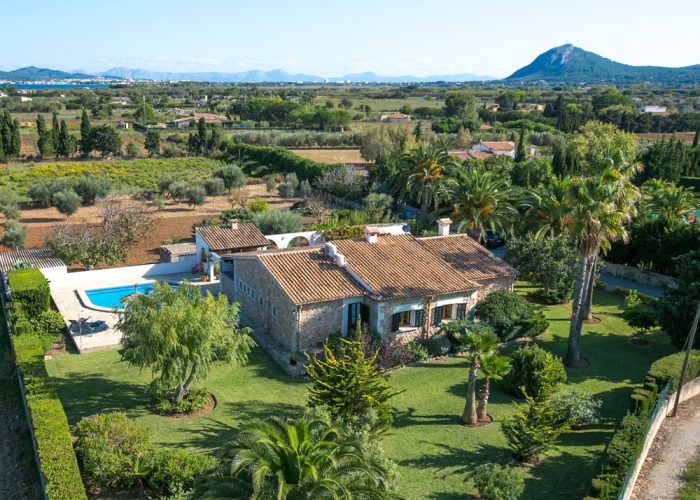 Pep Font is a delightfully attractive country villa that enjoys an idyllic rural setting, whilst being within easy reach to the atmospheric Port de Pollença and a series of beautiful white sand beaches. This spacious and inviting property comprises of four bedrooms and three bathrooms, sleeping up to eight guests.
Pep Font is tucked away off the beaten track down a quiet country lane, lined by sprawling fields of olive trees set against a dramatic backdrop of the distinctive Tramuntana Mountains. This quintessentially Mallorcan country abode makes the most of the local materials that are abundant on this Spanish island. The villa's façade is clad in a striking array of natural stone boasting different colours of beige, browns and creams. Bright colours are infused into the setting with fabulous vine and bougainvillea-clad archways.
Internally, the same typically Spanish theme runs throughout the house, with cool rustic tiles in every room, laid opposite authentic wooden beamed ceilings. With bright and tasteful furnishings, Pep Font radiates a homely, welcoming vibe.
For guests determined to work off the holiday excesses, the villa has its own fitness room, equipped with a stationary bike, cross-trainer, multi-gym and a shower room. Though if a more leisurely swim is more up your street, the sparkling water of the villa's private pool will undoubtedly beckon you down its Roman steps!
For some welcomed shade from the bright Mallorcan sun, a partly-shaded courtyard presents the perfect spot to sit and read a book, enjoy a cup of coffee or glass of wine, or tuck into a delicious family meal. This delightful courtyard can be accessed via French doors from the villa's open-plan kitchen/dining/living room.
Simply walking around Pep Font's gardens is a pleasure in itself, admiring the plethora of blossoming flower beds, indigenous shrubs, citrus trees and palms.
In spite of its idyllic location nestled amongst Mallorca's picturesque countryside, Pep Font is just 4km from the upbeat atmosphere of Port de Pollença. Spending a day lazing on Port de Pollença's desirable sandy beach and visiting one of the quality restaurants the port is home to is quite simply a must when staying at Pep Font.
The quaint Roman town of Pollença itself is just 5.5km from the house, where you can enjoy soaking up traditional Spanish culture walking around Pollença's narrow streets and impressive main square.
To find out more about the fabulous Pep Font and to book to stay at the villa, visit the property's webpage here.