14 Aug
We have to admit, Villa Alaju is situated in one of the most spectacular locations of our Andalusia portfolio! This stunning three-bedroom, two-bathroom villa lies at the zenith of its own private peninsula, looking down on the sparkling water of the impressive inland lake known as the Embalse de Zahara.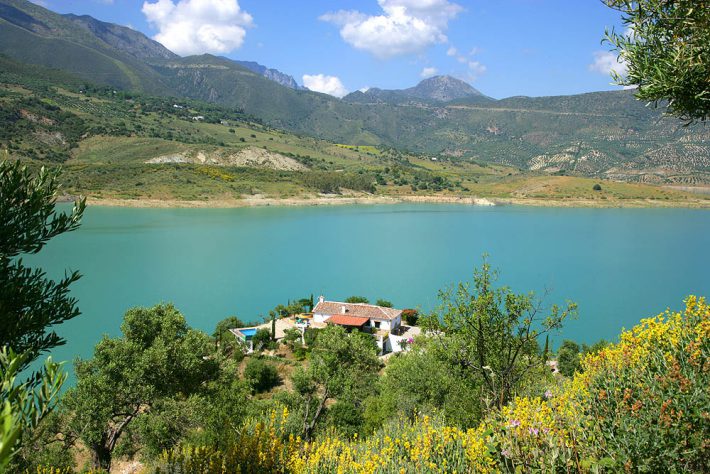 Villa Alaju is home to a staggering ten acres of land. Within the property's huge grounds is a private swimming pool, which blends seamlessly with the cobalt water of the lake below. With both open and covered terraces, guests can take their pick of sunbathing in the warm Spanish sunshine and relaxing in the shade whilst drinking up the fabulous views. Naturally, with views this good, al fresco dining is encouraged at Villa Alaju, where guests can cook to their hearts' content on the villa barbecue!
Fishing enthusiasts will be in their element at Villa Alaju as fishing in the lake is permitted from the banks that lie within the borders of the property's extensive grounds.
Five guests can stay in comfort at Villa Alaju. Its spacious interior comprises of a double bedroom with an en-suite shower room, a twin bedroom and a single bedroom. The villa's open-plan living/dining room makes the most of the incredible panoramic vista that surrounds Alaju.
The whole of the interior is tastefully furnished, with many characterful, traditional touches, including beamed ceilings and tiled flooring.
Air conditioning, Wi-Fi and a well-equipped kitchen, means guests can enjoy a comfortable stay with the mod-cons they are used to in a truly 'off the beaten track' location.
If you can bring yourself to leave the tranquillity and scenic splendour of Villa Alaju, just 5km away is the beautiful town of El Gastor, another sight for sore eyes!
This wonderful whitewashed hillside village has bars, shops, a market and all the amenities you'll need during your stay in this wonderfully picturesque corner of Andalusia.
The larger and more celebrated whitewashed town of Ronda is just a 30-minute drive from Villa Alaju, which is justifiably regarded as one of the true treasures of the Cadiz region of Spain.
To view photos and check availability to stay at the fabulous Villa Alaju, visit the property's webpage here.